Helloes! This time, I'm going to introduce one of the unique gameplay features coming with the Shadows of Vaniria campaign: The Emotion System. While still heavily under development, we couldn't wait to tell everyone about it anyway. There's even a nice little video about it at the bottom, so feel free to scroll to the bottom and check it out! Oh, and all the UI graphics used for the system in the article are some scribbles I made in about two minutes, so they're there just to give the feel of everything~
Emotion Level
Vaniria's powers fluctuate depending on how intense her emotions are. In the Emotion System, her emotions are defined by two extremes: Calm and Furious.

The Emotion Bar shows Vaniria's current Emotion Level on the screen. While on the blue side, Vaniria is feeling calm and lethargic, and while on the red side, she's feeling intensely emotional and dangerous. The Emotion Bar is conveniently divided into ten steps, and I'll mention their use a bit later!
As Vaniria gets more furious, she becomes more powerful. This is reflected by the Power stat, which directly increases all damage done.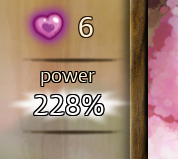 Power constantly shifts towards a point determined by the Emotion Bar, with higher Emotion Levels causing the Power to shift higher. Actually, there may even be some more interesting effects to high Power levels, but since they relate to something completely different, I don't want to spoil anything yet!
Soul Shards
To control her emotions, Vaniria has developed an ability to draw out Soul Shards from defeated enemies. When collected, the Soul Shards shift her emotions one way or the other depending on the type of the shard. Essentially, the shards come in two types: Calm Shards and Fury Shards.

Gathering a Shard will simply move the marker in the Emotion Bar to one way or the other, and will cause her emotions to gradually start moving towards the direction of the movement. Both types come in three different sizes, and larger shards have a greater effect on Vaniria's emotions. A small shard shifts the marker in the Emotion Bar by one step, a medium shard by two steps and a large shard by three steps.
Shadow
While Vaniria can draw power from her fury, it does come with a cost. As Vaniria gets more emotional, her vision becomes increasingly impaired. As the fury blinds her, the screen is gradually surrounded by a thick shroud of darkness, called the Shadow.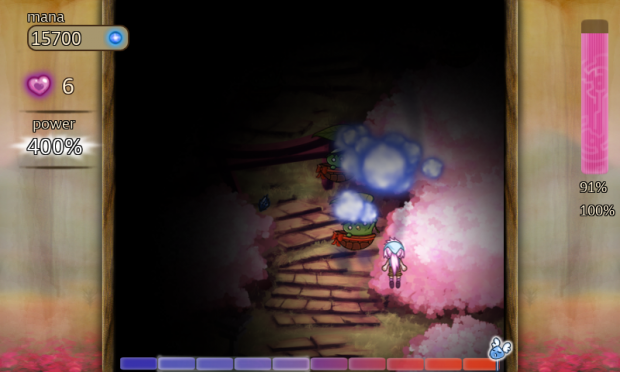 The amount of darkness corresponds to the current position in the Emotion Bar. At the maximum Emotion Level Vaniria can be very powerful indeed, but avoiding danger becomes extremely difficult…
Focus Zone
Inside her emotions, Vaniria has found an area where she can best control her emotions and focus her powers. This elusive Focus Zone allows Vaniria to get the best out of her powers while maintaining a reasonable level of risk.

The Focus Zone is indicated in the Emotion Bar as a white, glowing area. By staying inside the Focus Zone, Vaniria's Power level can never fall (but can increase depending on the position in the Emotion Bar) and the intensity of the Shadow is set to a standard amount. The Focus Zone shifts gradually around the Emotion Bar, so staying inside requires a constant effort.
By gathering Soul Shards and ending up inside her Focus Zone Vaniria can charge up her concentrated magic and gain levels of Focus Charge. Focus Charge will never drain, and can only be gained by gathering Soul Shards. If Vaniria can maintain her focus and stay inside the Focus Zone for extended periods of time, the amount of Focus Charge gained from each shard is gradually increased. If focus is lost and the marker in the Emotion Bar leaves the Focus Zone even for a moment, the benefits are lost, and must be built up again. As shifting emotions inside the Focus Zone causes a significant amount of stress, Vaniria's emotions fluctuate more with each shard gathered inside the Focus Zone, and the marker on the Emotion Bar will move faster.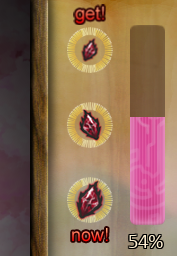 The true power of Vaniria's concentration shows itself when Focus Charge reaches its maximum. When Focus Charge gets to 100%, a Focus Burst is activated, and Vaniria becomes exceedingly focused, making her immune to all damage for a short while. The excess magical energy caused by the intense focus forms gatherable orbs of raw Mana around her, to be used for more valuable purposes (namely, buying interesting stuff from the shop).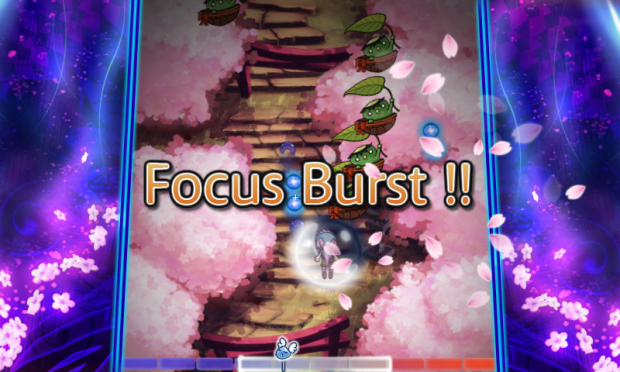 Now whoa, that's a lot of stuff to take in. What does it look like in action? Here's a little video from our development build!
Thanks for reading, and see you next time!