Hello!
This time we're introducing Vaniria, the new playable main character of the Shadows of Vaniria campaign! We're also taking a glance at some of the gameplay elements that come with her.
Vaniria, The Renowned Treasure Hunter
Vaniria is a bright and resourceful Treasure Hunter. Equipped with her sharp wits and her mum's old treasure notebook, she delves into dungeons in search of wondrous artifacts and grand adventure!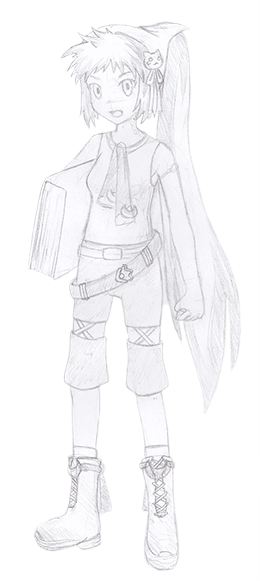 As old tombs and forgotten dungeons are often filled with deadly curses and treacherous magical traps, Vaniria has developed a keen understanding of magic to reach even the most well-guarded treasures. Her own brand of magic draws power from the night, and especially the moon, dealing with shadows and illusions and reinforcing her status as a Thief- uh, Treasure Hunter.

Uni, The Cute Little Kitty
On her travels, Vaniria is accompanied by her loyal demon kitty companion, Uni. This little cat happily follows Vaniria around wherever she goes. To Vaniria's annoyance, he always addresses her as "master".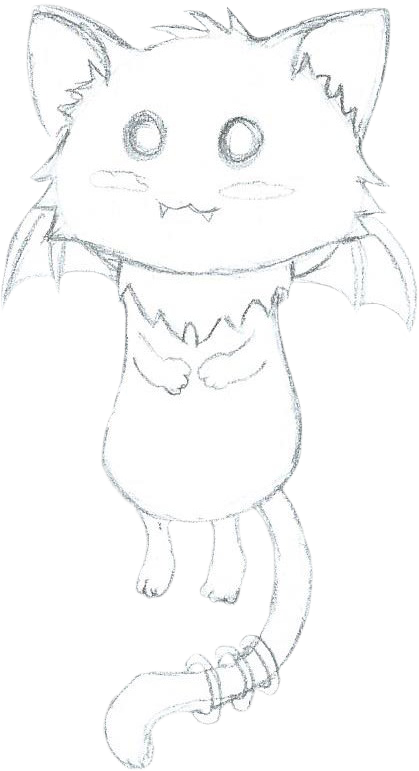 The Mythical Temple of Fuuanji
Led by her mum's notebook, Vaniria finds herself searching for the legendary temple of Fuuanji, hidden deep in the cold frostlands of Soushinka. Home to a powerful kami, the temple holds the secrets to a sealed scroll, along with untold treasures.
The mythical temple is described as a colorful paradise, with countless blooming cherry blossom trees and eternal sunshine. Legends tell that long ago, the kami defeated an evil being that brought terror to the surrounding lands. The kami sealed the being's powers inside a shrine, and build a temple around it, warding the seal with strong enchantments so the powers would never be used again.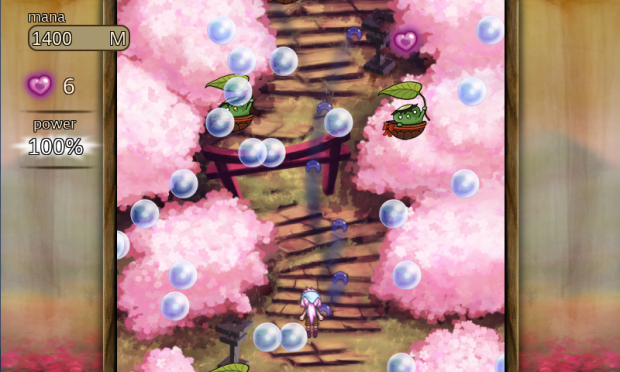 The new stages have a very Japanese feel to them, featuring blooming shockingly pink sakura trees, shinto-style gates and creatures from Japanese legends. Expect to meet disciplined, battle-hardened Tengus and mischievous Kappas! If you're not careful, they might even follow you home...
New Skills
Skills are the weapons that the player uses to destroy the waves upon waves of enemies encountered during the gameplay. In Corona, once a skill has been acquired, it is automatically constantly used by the character, with no need to press a shooting button.
Vaniria has seven different skills that can be leveled up by purchasing new skill levels from the shop between stages, to a maximum of level 4. She starts the game with her own element, Moonrush.
Apart from her lunar magic, Vaniria has six skills dealing with different aspects of treasure hunting.
Cat's Grace: Scratches and tears enemies apart with the agility and ferocity of a cat.
Alchemy: Employs potions of volatile and dangerous liquids to bring forth explosions and some... unpredictable effects.
Treasure: Finds coins and valuables by defeating enemies, and uses their value to rain down expensive destruction.
Assassination: The art of destroying enemies efficiently, using blades and shadow magic.
Engineering: Lays out traps and mechanical contraptions to control the enemies actions.
Archery: Shoots elemental arrows to inflict damage and various status effects.
During a single play-through, she can choose to upgrade two of them. Since Vaniria is adept at crafting costumes, upgrading the skills gradually alters her outfit as well.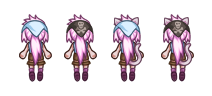 Wah, now that's a lot of stuff! Aaah, and I wanted to tell you about one more feature, around which Vaniria's whole gameplay will revolve... But now, I'm out of time! Let's leave that for another article, where I can go more in-depth!
See you again next time!