The Tanuki Teakettle is a mysterious and elusive creature... This cute little package of metal and fur may be in for the fight of his life against Vaniria, but compared to his hardships before, he may be less disheartened than one might think...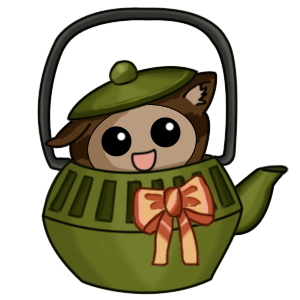 Learn the secrets of the Tanuki Teakettle in the wonderful all-new Corona short story, The Tea-Maker's Tale, prepared exclusively in honor of the community that helped us choose this cute furry creature!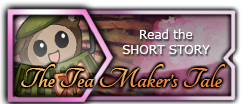 Miniboss Mechanics
The battle against the legendary Tanuki Teakettle is too fierce for words! Instead, watch the video below! For additional details on the creature's skills, be sure to scroll down below the video.
Skill: Steambath

Summons batches of slow-moving clouds of thick steam to cover the screen. While the clouds themselves are harmless, they obstruct vision by hiding anything that passes below them.
Skill: Teatime

Pours hot, yet extremely well-brewed tea onto the battlefield in a slowly swirling spray.
Skill: Best Served Hot

The kettle boils over, spraying hot tea and fiery embers into the air to fall over everything.
Skill: Swirl!

Summons a raging storm of sharp tea leaves to surround the area, limiting movement and preventing escape. The storm subsides only when the Tanuki Teakettle is defeated.