0.3 on the way and awesome new features come with it !!!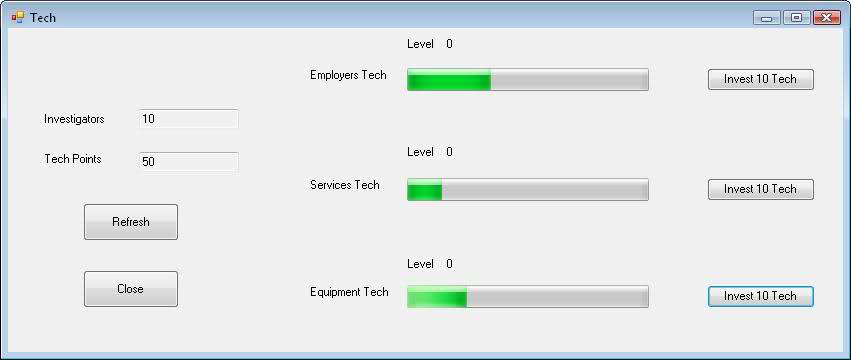 The first thing I made was combining Equipment Tech and Materials Tech as Materials Tech is way too focused so now each five levels of Equipment Tech will decrease materials cost or increase efficiency. When you reach level 5 of Equipment Tech machines will cost 900 and not 1000 (This was just for me to test it and it's not confirmed). In the Tech area I also added a security feature so that if you dont press Refresh all the invest buttons are loocked, otherwise they would make the game to crash.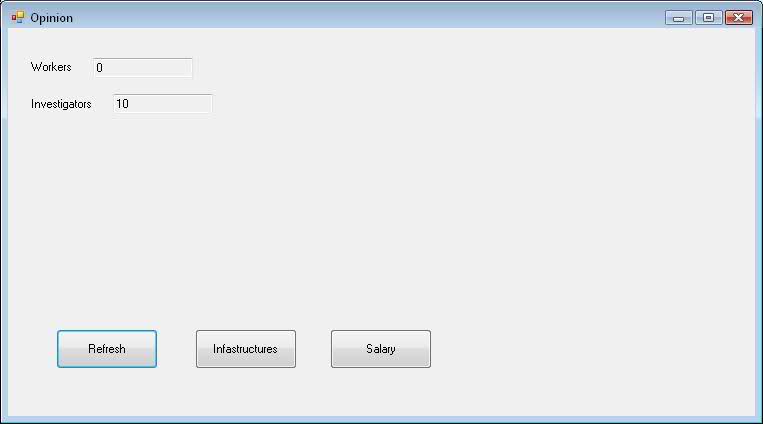 I also started working on Opinion but I didn't get to the real coding yet (just some mind drawing).
It's not yet confirmed but you will be able to change the workers and investigators salary, if you are thinking: "Those bastards will be my slaves!" forget it, there will be a opinion meter and if it gets to low you might lose some workers, lose money or even lose equipment.
But changing the salaries is not the only way to make them happy, you will also be able to build infastructures like restaurants, taberns, gyms, etc so they don't get all pissed off with you.
Right now that's all I can say about Opinion, nothing of this is confirmed but more information is on it's way and 0.3 might be released tomorrow (25/04).