Round 2 on the spaceport assets! We'll get these new ones rendered out in various rotations (hooray sprite-based games) and plugged into the game. The crane itself is modeled pretty closely after the Finnieston crane in Glasgow which has a pretty cool history to it. I'm sure Buckminster Fuller will be proud of our little spaceship too...
On the data side I should have a new build ready to roll out by the end of tonight, so once you factor in the time to get everything loaded into our master branch and uploaded to Steam we should have it playable for testers come tomorrow afternoon. The last two weeks on my end have been split between overhauling the data as mentioned in the last post as well as creating a new map to test out ideas for how Brigador levels should be laid out in the future, particularly in reference to our new impeding tiles such as grass and oil. To illustrate:

See how the tank gets mired in the oil and to a lesser extent the grass. Players piloting ground based vehicles need to stay aware of the terrain or risk getting caught in a deathtrap

The anti-grav platform on the other hand has the advantage of ignoring terrain as well as low objects such as jersey barriers. While players who pilot agravs need to be careful of their lower armor levels, the superior maneuverability ensures a greater flexibility when it comes to engaging and disengaging enemy targets.
Miring tiles present some interesting opportunities from a level design perspective as they affect both player and enemy ground based vehicles. Most levels from here on out will have at least a small portion of miring tiles to afford players the opportunity to create deathtraps for both the enemies as well as themselves. In this new map below for example, large portions of the level are covered in either grass or oil. As such, players piloting agravs will be able to use their additional mobility to great effect: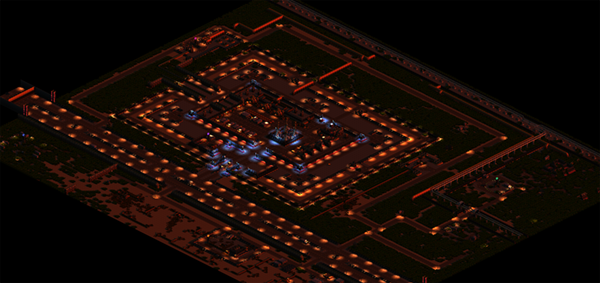 And just as last time, Jack streamed his modeling process on twitch-- catch the current batch of assets being made below. And remember, if you're curious about the game or our production pipeline please do swing by! We announce it on twitter, facebook, as well as the Stellar Jockeys and Brigador Steam groups for any who are interested.
This particular stream is modeling for the first 4 hours, and then for those interested in gameplay there's about a 20 minute snipped of gameplay right at the very end. Check it out!