Let me ask you a question: Do you like railguns? Of course you do. Everyone likes railguns. This week introduces a new modular payload for the Rifle, Shotgun and Sniper weapons: The Railgun! Railgun shots pierce through everything, including buildings. Really, they're a bit OP. Have fun while you can, I'm probably going to have to nerf them.
Improvements & Changes:
Railgun projectile for the Rifle, Shotgun and Sniper weapons.
Level Requirements: Higher rarity items now have a minimum level required to equip them, up to 15 for Unique items. This text is displayed in red if you cannot equip the item.
Higher level buildings now always drop decent items. Breakpoints at Hack Difficulty 50, 125, and 250.
Sprint now grants you a visible buff for the duration
Teleport items now use the Sprint icon instead of the Jump icon, to better reflect how I think they should be used
Shoguns now display damage like this to make clear they shoot multiple projectiles: (2-3)x6
Lowered Aimbot damage slightly
The SHARK will now drop at least a Rare item, scaling with your Loot Find. No more easy uniques!
Players will now receive a reward for managing to climb on top of Finality.
Acid pools now do less damage
Popups will now tend to jump at the player's face instead of over her
Buildings outside of the spawn area will tend to be bigger, for a more convenient leveling curve
Bug Fixes:
Spider mines will drop from the player's position, like normal mines, instead of always spawning at 0 height
Mines no longer will drop through the floor
Items are all deactivated appropriately when the inventory is opened
Permaslow bug fixed (it was an interaction between Slowing enemies and Sprint items)
Swapping items from the deck to the inventory no longer causes trouble
Lasguns appropriately are not blocked by powerup sensor spheres
Buff timers now display properly
Selling all inventory items is no longer super loud
Buffs no longer affect you after you die (for real this time!)
Jump buildings no longer block shots much further outside than necessary
Charge Jumps are fixed
The Music player has been fixed
Shielding enemies should no longer cause a ton of lag
Any feedback or suggestions are always appreciated.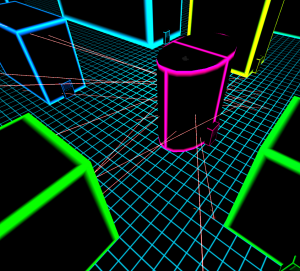 A small bug I had while developing the Railgun