Avorion 0.7 has been released!
Here is a list of the most important new features.
Wormholes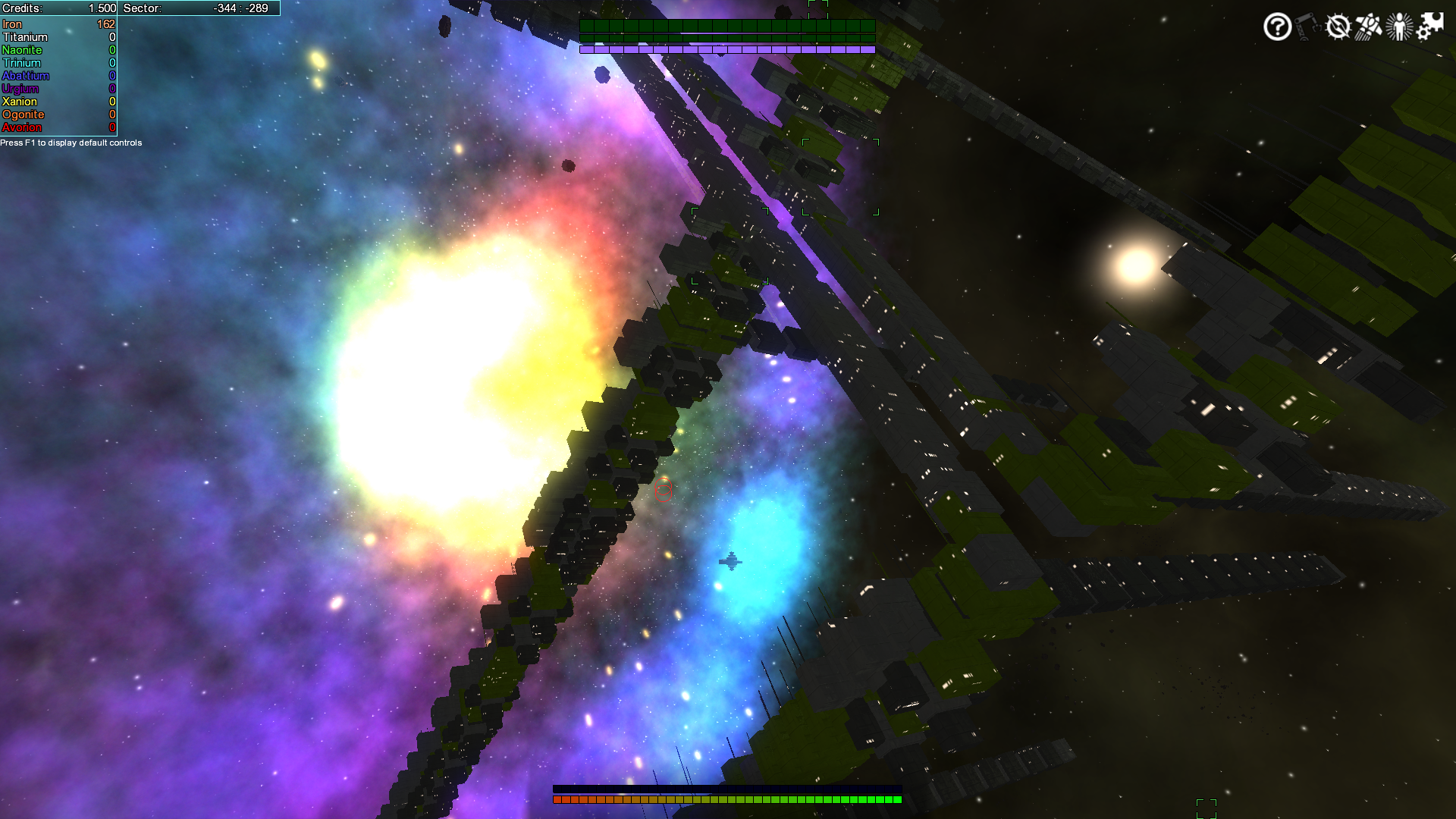 The galaxy features wormholes from now on. These space anomalies allow players to travel between large distances, some wormholes may even transport players hundreds of sectors away to the other end of the galaxy. Wormholes consist of different types, some transport ships towards the center of the galaxy or away from it. Others transport players into a completely random direction. Wormholes can be found in every sector, so you just have to look out for them!
Reworked Building Mode
One of the core features is the ability to build your own ships with blocks. The building mode has already given players the ability to extend their ships in the past, but it was not very easy to use nor efficient. Version 0.7 introduces a lot of new features that will make building your own ships a lot easier.
Building Inventory This menu can be popped up to make show players all the blocks, turrets and parts that can be built. Plus you can now Drag and Drop them into the lower bar for quick access. Same goes for shapes and colors as well.
Template Mode Players can now not only add single blocks, but entire ship parts with one click!
Copy and Paste Ctrl C and Ctrl V can be used to copy and paste blocks or ship parts. Or even the entire ship!
Undo Redo With Ctrl Z and Ctrl Y players can now undo their last actions
The Stats Preview will show how new blocks affect your ship's stats, like acceleration, hull, rotational speed or necessary crew
Thrusters
These new blocks have small engines all 6 sides and control your ship's yaw, pitch and roll speed. Furthermore, they brake the ship and reduce drifting by steering your ship in the right direction while flying.
To maximize the gain of rotational speed, thrusters should be build far away from the center of mass and the rotational axes of the ship.
Improved Station and Ship Generator
The generator has been updated with new shapes and styles. The new elements are spikes, disks, and rings and will be generated into new stations and ships. Procedurally generated ships look more like ships and a lot less derpy.Furthermore, especially the algorithms for smaller ships were improved to generate less ships that are crippled and unable to function.
Creative Mode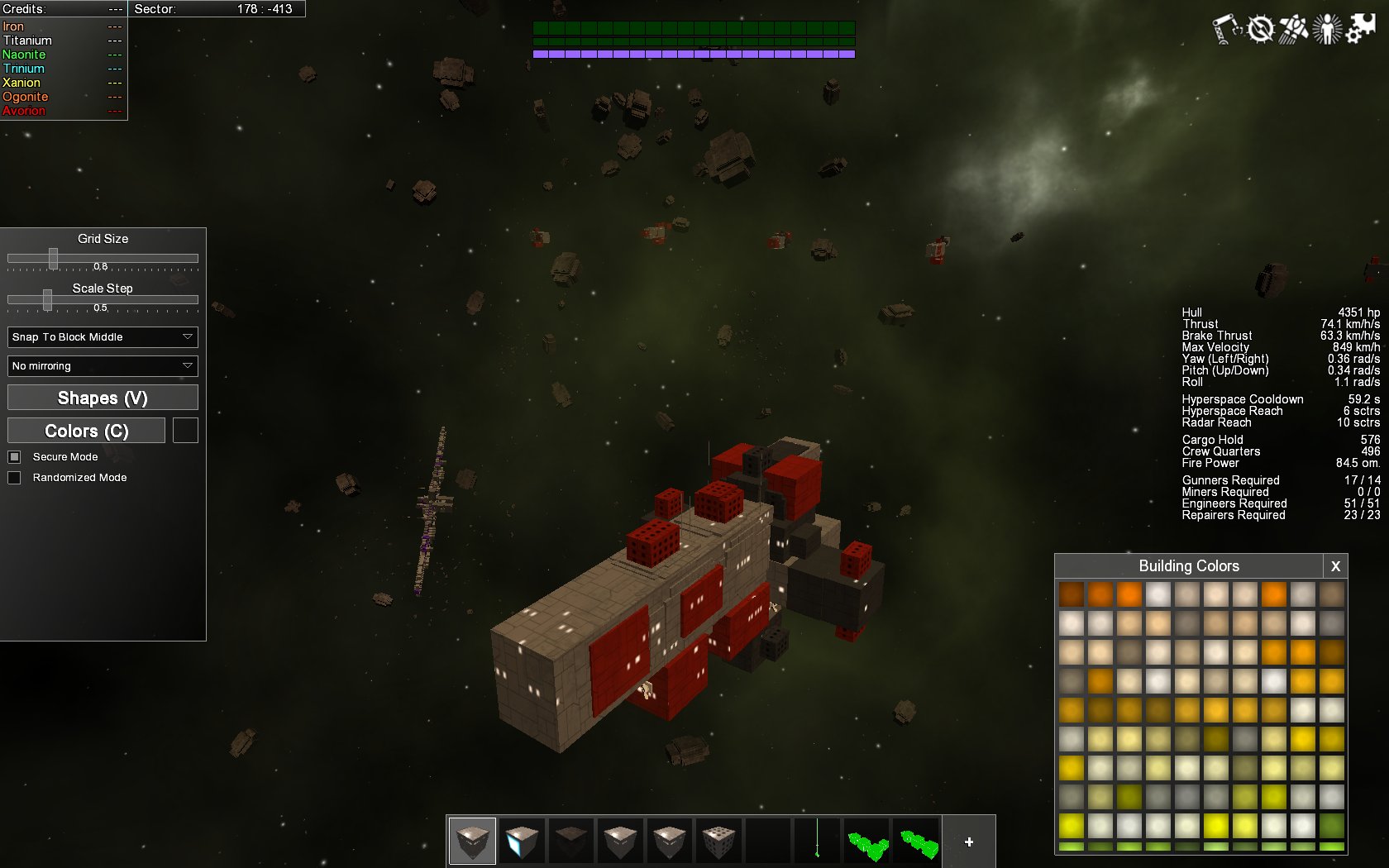 What would a sandbox game be without a creative mode? With this new feature, players have an infinite amount of resources and can build ships as big as they want. The creative mode unlocks all colors as well, so you can paint your ships in all the colors of the rainbow.
Improved Visuals
There were several improvements to the visuals: Planets have a better atmosphere (at least those that have one) and are generally prettier, thanks to new clouds. Their colors were adjusted as well, so that they fit the background colors a lot better, creating a more organic atmosphere.An old feature that got lost during the change from DirectX to OpenGL is now back, too: Background Ambient Lighting! The background illuminates all the objects in the sector, so in a red sector, the ambient light of all ships will be red. The background basically acts as one big light source for all object in the sector.
But wait, there's more! A lot more!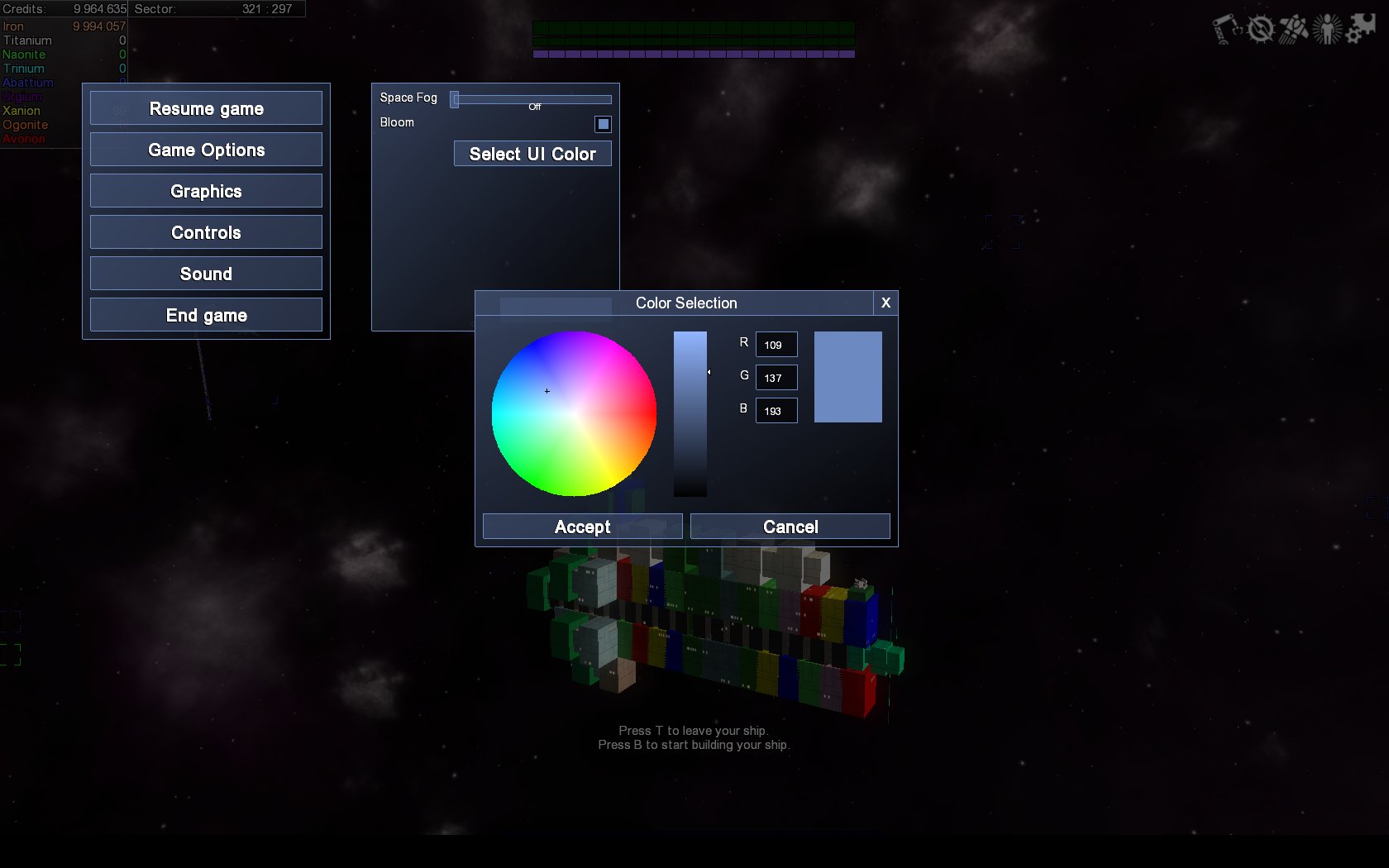 These are not the only features that made it into version 0.7. There were are a lot of other improvements like huge performance gains, new hints during play, sectors can be posted as clickable links in the chat, chain gun turrets have a new sound effect, automatic assignment and payment of crews, destructible asteroids, configurable UI colors, etc.
The full list can be found on the Avorion wiki: Avorion.net
Like the game on Facebook: www.facebook.com/avoriongame/
Follow Koonschi on Twitter: www.twitter.com/koonschi