 Hello and Thankyou for checking out A.Tree!

Welcome to the first ever development update on indiedb.com.
First I think I should probably explain what this game is all about; A.tree is a game about music and trees where they are both the same thing, you create a song by adding leaves to a tree, each leaf is assigned with a sound then the tree can be played from the roots upwards creating music. Oh and just so you know all the colours are modifiable on startup so you can create your own mood!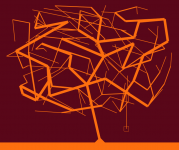 Early stress testing of branches.
Originally the game started as a concept on a different music creation program, but I had an idea where you try and recreate a song or tune that is played to you in the same way I wanted to make the music creation program. So soon they became the same project and after building the menu and control systems I soon found myself a synthesizer (MOAN by vrld) and began expanding it.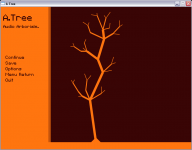 The menu system.
Currently I'm at a stage where I am building the interface for the synthesizer into the game so I can finally test the sandbox gameplay. I'm hoping to finish the game this year but my life at any moment could just eat my time for developing this so no promises there.
I'll be updating this page with news and images regularly,
'Till then have a good day!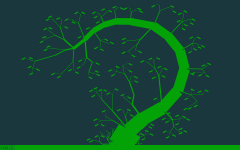 Click on the image to see what is used in the background of this post.