Hi IndieDB, I wanted to talk a little bit about what's been happening this week. First, Anodyne is now on Facebook, so if that's your thing, you can "like" the page to both make us feel better and get updates. I also found this feature to make a forum for Anodyne on IndieDB, so you can post there, too!
I recently finished the last main dungeon in terms of a quick test run and mechanics and design. Still have to do the boss, but I'm quite glad I managed to finish the dungeon! Making those has really been the toughest of the work so far.
What this means is now I get to go through the excruciating process of making the animation placeholders final enough for Jon to go in and draw the animations, which is also excruciating for him. I've tried to reduce the cardinality and simplicity of the animations as I've gone along, but there are still a lot. Which is nice for the player, but not so much for us - although the end result always looks great! I'm just complaining, and this is entirely my fault. Plus sound effects. But those are fun.
For most of the enemies, I use placeholder sprites, but there is still a little bit of work to be done in making sure the animations are right - reading through the logic, testing it in game, and giving enough documentation so that Jon can have an easier time of knowing what to draw and the amount of freedom in doing so.
Also, Jon has been making a lot of really nice tilesets. But they're secret.

I can give you this, though. It's a WIP.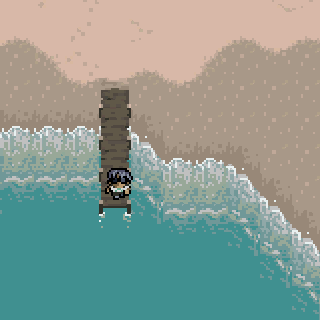 It's been an awkward work week for me. Been moving my sister into college and on a semi-vacation, but I still got a decent amount done, in car rides and the like. Haven't been able to write much music, though. Returning home soon to do as much as possible before Jon starts school (I don't start for quite a bit still).
Status update in semi-meaningless percentages:
Enemies/Bosses: 90%
Dungeon Designs: 90%
Outside-Dungeon Designs: 25%
NPCs/Story/Dialogue: 25%
Music: 40%
SFX: 20%
Tilesets: 40%
Animations: 20%
Other (menus, intro, ending, sekretz): 30%
Testing: 10% - jon and I for majority of bug-weeding, a few friends on early stuff

I would say for what *isn't* created, most of the planning is done, so it's just a matter of putting enough time into creating the content. Which can be a bit of a grind, but....the end result is worth it!
Expect another update sometime this weekend, perhaps even a blog post - I'm working on the second part to this first blog post on dungeon design , as well as a technical explanation of the simple (and messy) architecture of enemy interactions, and the player.
See you later, and DON'T FORGET to follow @AnodyneGame for occasional short updates, or follow me (@seagaia2) or Jon (@JonathanKittaka) on Twitter for other updates, sometimes related to Anodyne.