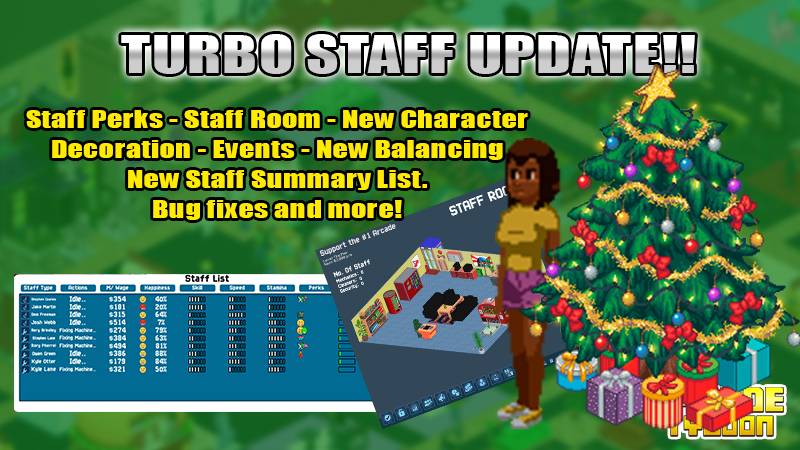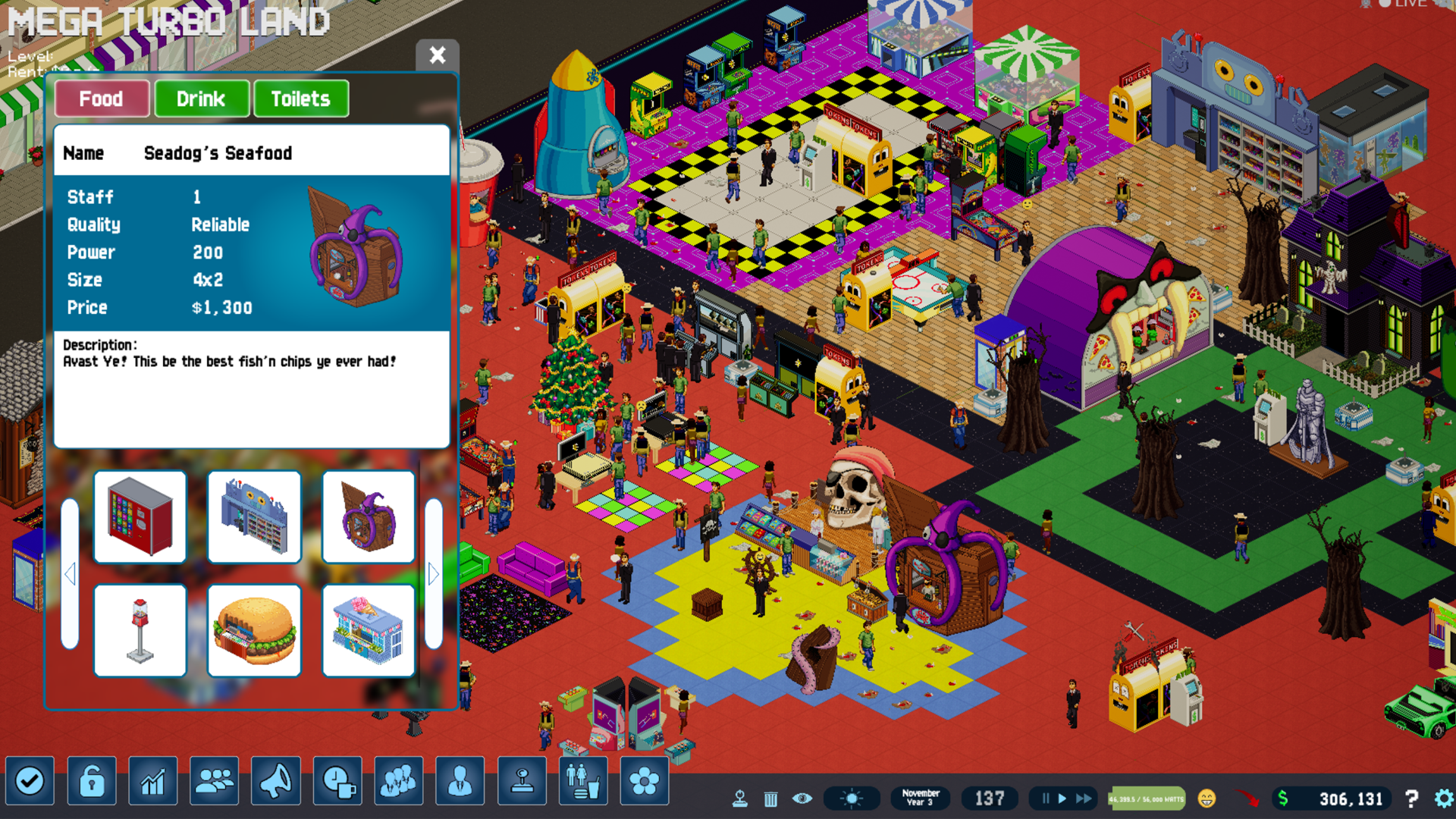 Hope you are all well and excited for the Holiday Season.
I'm here with the final update of the year which will provide some big new features.
The first major addition is all to do with Staff members. They have too long been in the shadows repairing machines, cleaning up rubbish and keeping out thieves.
Staff now have Needs, Stats, Perks and Flaws:
~ Needs are similar to customer needs, and staff will get cranky if you don't provide a place for them to rest and relax.
~ Stats now drive how good your staff member performs certain actions. They are split into 3 categories, Skill (How fast or well they work), Speed (How quickly they move around) and Stamina (How long they can work without a break).
~ Perks are bonus skills that you can give a staff member. They can provide unique traits or an extra boost to stats.
~ Flaws are the opposite of perks. These can develop over time and will hinder your staff.
On top of this, Staff will now gain XP which you can use to upgrade your staff member. We've also added a Staff Room which you can build to give your Staff a place to take a much-deserved break.
To finish out the update, we've added a new customer who will start showing up at your arcade, a staff summary screen to help you keep track, as well as a whole host of bug fixes and improvements which you can see below.
Patch Notes
~ Added a large selection of Perks to staff members that are generated in the Staff Hire window, you are also able to award your staff members new perks once they gain enough experience to level up!
~ Added a new character.
~ Added a new decoration just in time for the Christmas season.
~ Added a new Random Event called "High Rollers".
~ Added a new window that allows you to see all staff members in a list and Select them (Staff Summary).
~ Added a Staff Room that your staff are now able to visit when their needs fall low, complete with upgrades.
~ Added a Staff Wage info string to the staff select menu.
~ Added an animation to the Marketing screen that now plays when you can't afford a program.
~ Added functionality to the "Bonus" button which for a cost, grants staff a temporary boost to needs to allow them to continue working longer!
~ Added new buttons to the HUD for both the Staffroom and the Staff Summary.
~ Added the Staffroom button to the HUD.
~ Fixed a bug which caused the pickup button to be replaced with Alert for spanners and cleaners.
~ Fixed a bug which caused the Staff select view to be removed occasionally.
~ Fixed a bug which occasionally caused a customer to get stuck.
~ Fixed a bug which stopped Lightning from appearing.
~ Fixed a major bug caused by reloading a save.
~ Fixed several occurrences of the mouse click leaking through to certain menus.
~ Implemented Staff Needs, these dictate how effective your staff members are while working.
~ Rebalanced some audio volumes.
~ Rebalanced the price of the Arcade durability upgrades.
~ Rebalanced the Unlockables Repair Speed Upgrades.
~ Removed the heat haze effect.
~ Reworked Staff Needs and Skills.
~ Reworked Staff wages, they are now calculated based on the "Level" that they generate at and their Stats & Skillset.
~ Reworked the Staff select screen.
~ Staff members in hired in a previous version will have its stats re-rolled based on the new system.
~ Staff will now gain experience when performing various tasks, once enough experience is gained your staff members increase in level, certain tasks will grant more experience.
~ Upgrading a staff member will increase their monthly wage.
We've worked extra hard to get this update out in time for the holiday season, however, bugs will do buggy things. So if you spot one, let us know through both our discord and Steam forums.
Finally, the team here at Arcade Tycoon would like to wish you a Merry Christmas and a happy new year.