With documentary films about the pony fandom ramping up and more and more media outlets taking notice of the strange culture of adults who enjoy
My Little Pony: Friendship is Magic
, it's almost inevitable that they all try to grab hold of some kind of comprehensible catchphrase or theme on which to base the pictures they paint for their audiences. Some journalists mistake "brony" as meaning an inebriated frat-boy who makes a show of liking ponies out of rebellious irony. Some focus on the raucous net-savvy 4chan roots of the fandom as a kind of self-mocking meme that got out of control.But virtually all the exposés that attempt to understand the fandom as a sincere, self-supportive community of like-minded fans of a show about pink cartoon ponies latch on to a recurring mantra that survives today stronger than ever:
Love and Tolerance
. To hear fans tell it, that's what
FiM
is all about, and that's why everybody loves it so much.I've just got to ask:
Are these people watching the same show I am?
Hit the break to see what I'm on about this time.
The Piltdown Macro
Here's what documentarians and pop-culture journalists almost invariably stumble upon when, through digital archaeology and earnest interviews, they try to understand how the pony fandom got started: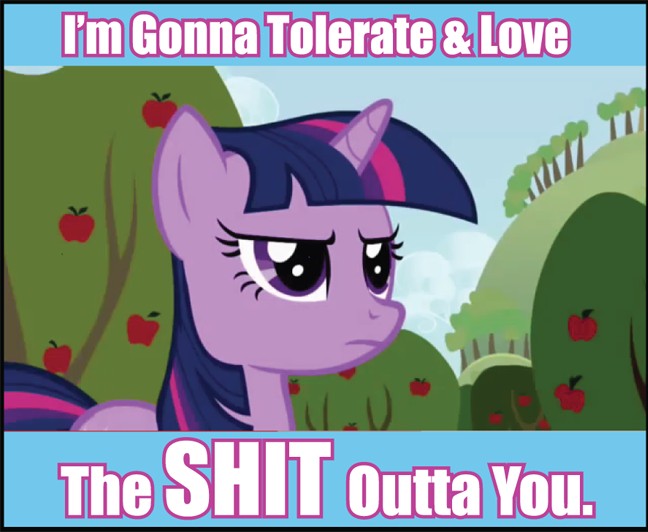 It's perhaps the canonical image macro dating from the early days of the 4chan-based pony fandom, back when such macros were the primary way in which nascent fans communicated to each other that they were paying just a bit more attention to My Little Pony than one might think necessary to make a few visual Internet jokes from it. It was both a defensive mechanism and a rallying cry for fans reveling in the odd rebellious thrill of it all, and soon to "love and tolerate" naysayers became as synonymous with the show's online fan base as the once-witty term "brony".The narrative that these artifacts imply is compelling: Early fans of the show congregated around its message of colorblind inclusiveness and drew strength from it, enough so as to ward off the mockery of their peers, both online and off. "Trolling" was met with indulgent smiles. Invective and insults earned only forgiveness. A new era of peace and understanding bloomed on the Internet, all thanks to the powerful, irresistible message of Love and Tolerance preached by Lauren Faust's pony show.There's only one problem: The show is about no such thing.You'd think, from all the play that "love and tolerance" gets among fans trying to explain the appeal, that it's a catchphrase that shows up everywhere, in episode after episode, a message that's drilled home repeatedly like safety admonishments at the end of G.I. Joe cartoons in the 80s. But it's not. The ponies don't love one another unconditionally. They don't make a point of putting up with each other's differences. The word tolerance never even occurs anywhere in any episode script.Oh, sure, there's plenty of friendship in the show. There are Elements of Harmony. There's a "Smile" song. But a journalist who knows nothing about the show doesn't know the difference between those things, which fans recognize as refreshingly innovative and endearing character-defining plot elements, and the sort of cynical, didactic moral message of tolerance that infested so many preachy "educational" cartoons of past decades that the very concept was played out by the mid-90s.Fans who perpetuate the "love and tolerance" meme do so without acknowledging how profoundly unlike those older shows FiM is. In the process they give those who seek to understand the show's appeal among animation-loving adults the impression that this is just the latest in a long line of aggressively wholesome "message" shows, hamfistedly teaching children the value of inclusiveness and open-mindedness through rampant tokenism and repetitive storylines about the perils of prejudice. To someone running an interview with fans to learn what's so great about a show about ponies, finding out that it's apparently about "love and tolerance" is like hearing that a modern clumsily disguised edu-tainment show in the vein of Captain Planet or The Magic School Bus has somehow, for no discernible reason that makes it unique, managed to transcend its genre and strike such a chord among nostalgia-loving children of the 80s that they now stage conventions across the country and attend them in the thousands.I'd like to caution would-be brony-fandom journalists against making this assumption. If someone you interview tries to tell you that "love and tolerance" is some kind of central theme in My Little Pony: Friendship is Magic, ask him what that message has to do with the show. Ask for specific examples. I'll bet the answer you get won't be very convincing.
Don't Judge a Show By its Fandom
I'm not here to argue that fans of the show don't live by the "love and tolerate" mantra the way they say they do, or to commentate on whether it's hypocritically applied only to the fandom's interactions with some adjacent Internet subcultures and not to those with others. Some folks might find such a discussion rewarding. But what I'm doing instead is pointing out that the slogan, while it may be an admirable one, only has the barest of connections to the premise of FiM—no more so than to any of dozens of other cartoons that have been produced in the past thirty years or more.Plenty of ink has been spilled, here and elsewhere, over what it is that draws fans so irresistibly to the show—whether it's the animation, the characterizations, or more generally the idea of a firmly girl-oriented show with such genuine quality and broad appeal that the novelty of watching it gives it a thrill rather than a deal-breaking stigma. One thing it surely isn't, though, is that the message of the show is all about such a facile and ultimately unconvincing concept as tolerance.
In fact, nowadays using the word tolerance is a surefire way to get your audience's eyes rolling. It's a punchline, not a philosophy. It's the stuff of parody and mockery, and nobody takes it seriously.Worse, embracing tolerance as an unironic byword isn't a great way for a fan to convince others that he's a discriminating fan of quality content, or that FiM is by extension unusually good or worth watching. Rather, it suggests to the disinterested third party that it can't be the show itself that's so appealing—that it's more likely something about the online community or all the meta-material that the community has produced that is behind the real draw. Saying it's about "love and tolerance" just makes a non-fan question one's judgment and taste.It's particularly a shame because the show's real premise can indeed stand on its own, if it's described with more appropriate vocabulary. I believe most fans understand implicitly that it isn't the cast's determination to welcome ponies of all shapes, colors, sizes, and backgrounds in their tea parties that makes them into compelling vessels for storytelling. Far from it. It's actually their very human conflicts that lie at the heart of their appeal, the interpersonal incompatibilities that they learn to work around rather than accept unquestioningly.It would be simple, too easy in fact, for the show to put forth a message that the kids watching the show should learn to just "get along" with their classmates, that anyone can be a friend no matter what they look like. This is hardly untrodden ground in kids' programming. Generations have been inundated with this message,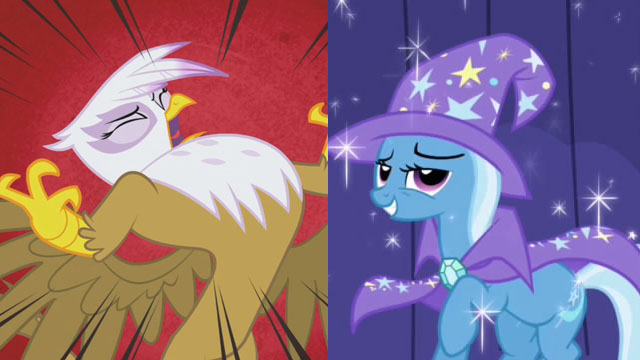 Some people just aren't worth tolerating. Really.