We are here today to give you a HUGE media update, which includes lots of pics, our WIP Intro movie and a little more about how Wrath is being released! *EDIT* There will now be NO intro movie but heres Wrath's Teaser Trailer...
Heres the WIP Teaser Trailer

Sadly though, Wraths release is abit off, we are now going to release Wrath in Acts (like the Half Life 2 episodes, but you won't have to wait as long for the second) There are 4 Acts, which all are seperate islands in the game! Each Act contains 9 Chapters, and at the end of each Act you will face a boss, and of course progress through the story! Wrath's World is made up of 4 contients, Azyura (grassland), Snuori (Winterland), Rageu (Barren, destroyed land) and Youin (Desert and Oaisus land).
The main game will last about 10 - 12 Hours with replayabilty (the other paths).
So, expect Wrath's Act One this fall and the rest through 2009!
By the way, heres Wrath's final boss! The Cerburus...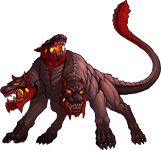 I hope you have enjoyed the update, we will leave you with some screens!
BlackOpsRacoon
Wrath's Lead Developer...