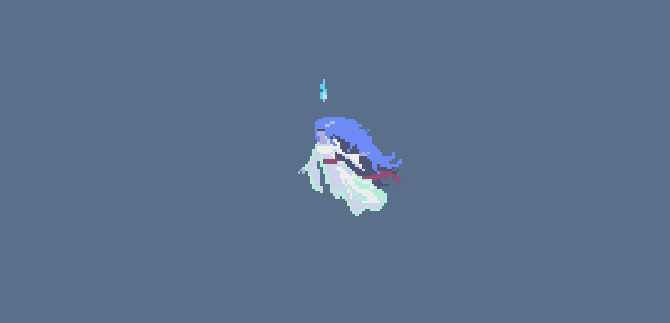 Welcome back wizards and sorceresses,
last post I talked about pixel art proficiency and the beauty of lo-fi art limits, and today I'll go further on the same path exploring 3 cycle hardcore animation and my improvement in the field.
In the featured image on top you can see the Yuki Onna, boss of ice stage Mount Ibuki. That's the last animated version I made for this charming spirit who riddled me so much about her own appearance.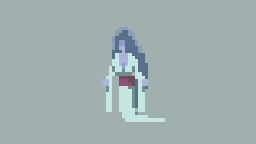 As you can see, I changed her look different times in this year of development along with her animation. Is hard to believe they are both 32×32 and 8 colors. The main difference is about the animation cycle.
I never tried to animate something for real before starting work on Wizards of Unica, so I had to understand from the base how to key-frame and how to obtain a fluid movement. As a no budget project I started with 2 cycle movement for everything, which is an hardcore choice for 32×32 sprites as you can see in the older Yuki Onna on the left. But was a good choice to start with, especially for a tactical RPG, allowing me to focus on basic frames. Once I became quick enough I just added one more frame in the animation. With a 3 cycle you can obtain everything you need without an overwhelming effort.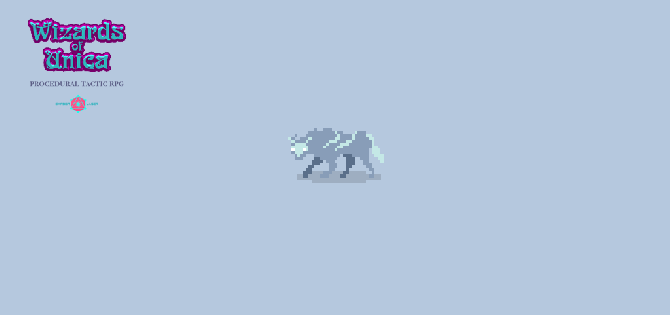 Japanese Gray Wolf aka Okami. Extincted in 1905
I also tried a 4 cycle animation for the Okami run. Sure was much more fluid, but wasn't necessary for the purpose of our game. Instead, I realized how much quick and useful can be a simple idle animation. Idle help to do not forget about enemies into the game, to perceive 'em as operating entities, ready to kills you. Idle have not aesthetic function to me, but are much more involved into game play than I could imagine, and a simple 2 cycle idle add great value to an enemy with just a couple minutes more of work.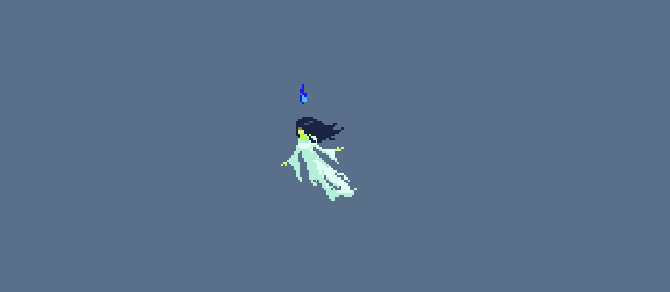 Once I found out the power of idle I have drawn the Yurei, the spirit of dead. In Wizards of Unica those are the Yuki Onna handmaids, fighting to protect their princess from being heartbroken once again (I'm not gonna tell you more!). Those animation are still draft, but you can see as a 3 cycle deals big pay off using the color progression on the frames. As for the Yuki Onna, with the minimal animation of the flame and 3 pixels for eyes and mouth I resolved the casting animation, saving times for another creatures. As I said: limit and its overcoming.
I made something similar to animate the Oni.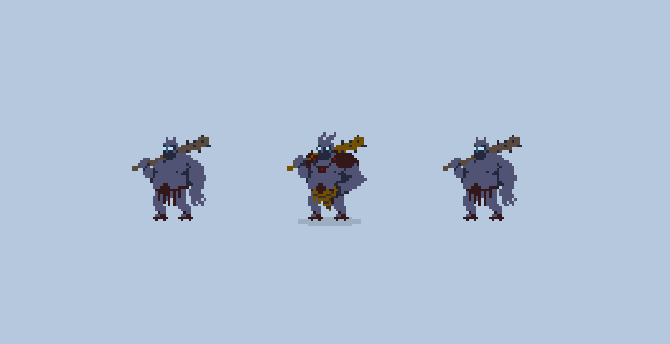 Last week I remade his look, but I kept his animation straight to 2 hardcore cycle.I just added a frame more with the ghost of the spiked club in the air. Look how a single demi-transparent shape convey sense of movement and fluidity, with just 30 second more of work.
That's how the limits magnify the solutions. And more the limits are strict more the solutions shines if are smart and bright.
These will be the Mount Ibuki enemies, and now that you know them, you can find their myths and characteristics in our updated Bestiary.
That's all for today guys! Wizards of Unica is growing pixel after pixel, and soon you will get a new alpha version! So subscribe here or follow us on twitter!
Thanks for your passion and support!
Daniele Lynx Lasalandra – Art Director
tweet @TheBlindLynx