Rock on! The good developers at the indie studio DFour Games, creators of Dark Gates, are offering up activation keys for their game on GamersGate! All purchasers have received a key in their Bundle and all new purchases will automatically get a GG key as well!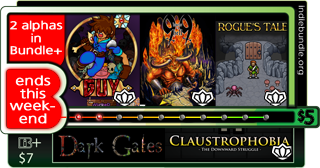 What's even cooler, is that in partnership with DFour Games, we are running a drawing where you can become a hero in the dungeon crawler Dark Gates! This means that you, in all your epic indie-awesomeness, could forever secure your place in gaming history as a unique character in the Dark Gates world! This character will be based on you in looks; you will decide their abilities and stats (within reason of course); you will battle dark foes and slash your way to infamy! If this interests you, read on (full details below):
The winner of this "Be A Hero In Dark Gates!" drawing will be randomly selected from those who have followed these three simple steps:
1) You purchased the Hellish Dungeons Bundle+ (duh!)
2) You activated and played Dark Gates on Desura (again, duh!)
3) Increase your chances of winning! (see below)
Want to double, triple or quadruple your chances of winning?? Do any of the following:
Tell friends and strangers by retweeting THIS TWEET.
Hop on facebook, give the IndieBundle.org page a LIKE and leave a comment!
Up Vote THIS REDDIT and leave a comment!
Join our Steam Group and leave some love in the comments.
Or hop into our new Community Chat and leave a quick "Hello IndieBundle".
Note: We will contact you, if you win, in the same form as you entered.
Drawing Details: The winner of the drawing will be selected within a few days after the bundle expires on June 3rd. The winner will be contacted in the same form they entered (ie, if you tweeted, you will get a tweet). The winner will work with DFour Games to create the character, which is due out in their summer update. Your hero will be awesome, but not invincible! Each "social activity" gives you a greater chance of winning. All entries will be assigned a unique number. A random number will be drawn.