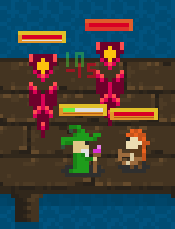 Don't try to find any logic with the healthbars colors, that's chaotic at the moment. The scenario is basically one tower attacking the wizard and another one healing him. Each tower has been summoned by both characters on the GIF.
I've been spending some time fixing various bugs in order to be ready for the next playtest that i expect to be next week.
I'll have to rebind those skils to proper keys, tweak skills, fix more bugs and i should be fine.
(but i probably won't)
FIXED circular frame buffer
FIXED charge, removed the lag compensation, I now let net corrections handle it, more reliable for now
FIXED message sending netrate
FIXED blur with pixel fonts
FIXED the server ending the instance when one team is disconnected
FIXED banners positions
FIXED a bug when dying while carrying a banner
FIXED banner attach/detach client-side
FIXED mask & hitbox for towers
FIXED collision tunneling (don' think it's fixed though :3)
FIXED tower not dropping after player death
FIXED towers not being attackables anymore
REVAMPED the way i feed my animations
ADDED new font for tooltips
ADDED a few sounds for skills
ADDED teleport animation
ADDED quick visual feedback for the healing tower