And a new weekly arrived, and it was good!
So we manged to do quite a lot this week. We got a new character done (even with a face-set)! And we also want to share some insights on the element mode. Finally a lot of planning was done this week.
New Character
---
Our new character (code name: Programmer) plays an important role in the story as a supporter. Much like with the other characters we want to share the concept art with you: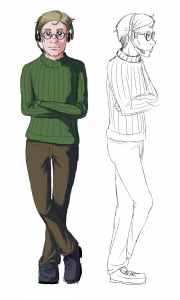 And a new challenger joined the ranks of the faces too:
Element Mode
---
In the last Week we teased the element mode which will take a great role in combat. When fighting, you can enter one of the 4 modes Heat, Cold, Shock or Wave. Each element comes with its advantages and disadvantages. You will be weak to the counter element (Heat/Cold and Shock/Wave) and you will inflict more damage with the element you're in (more information about the properties of each element at a later point).
Whenever you're in an element mode you can overheat. To prevent this you must switch to Neutral-Mode to cool down. If not, you will be forced into Neutral-mode and can not access any element mode for a set period of time.
Lets have a look at a screenshot to showcase the element mode a bit: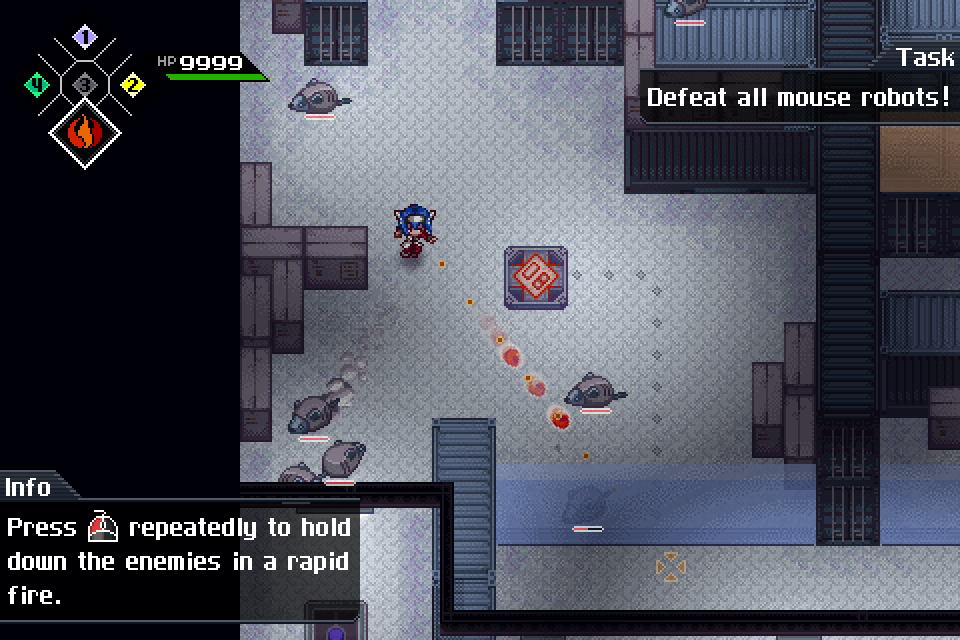 Here we just switched into the Heat-Mode. The interface will scale up a bit to show you the other elements aligned around the rhombus (with the Neutral-Mode in the center). When playing with keyboard and mouse, you can use the 1, 2, 3 and 4 key to switch the element or press the same button twice to go back to Neutral-mode. When playing with a gamepad you can use the D-Pad to switch the element mode.
The look of the attacks will alter depending on the element you are in. For now, we simply changed the color of the attack effects (eg. the color of the ball). Later the graphics might change a bit, so stay tuned!
Planning
---
We manged to do a lot of planning for the coming weeks. We talked about the in-game money system, items and how we want to display them to the player. In general we talked a lot about interfaces this week. This also includes the EXP-System and a Chat-System (it has nothing to do with Multiplayer, sorry :p). We also decided that we want to have a Metroidvania-like Map-System you can view via the pause screen.
This is it for this week! Until then!