Version 2.2.5 of the Mystery Dungeon-inspired roguelike game, Voyage to Farland, is out today! It has a fun new feature: Rescue Codes.
When you're defeated in a dungeon, you can send out a "help!" request via email, twitter, facebook or the Voyage to Farland forum here on Desura.
Then a kind fellow adventurer can enter the code and start a rescue mission, fighting floor by floor until they find you in the dungeon, completing the mission and spreading good karma all around. The rescuer then sends a "Completed Rescue" code back to you.
You enter the code and are revived and can continue your adventure where you left off. Think of it as roguelike social networking.
Head over to the forum for a more in-depth post about the new rescue code feature.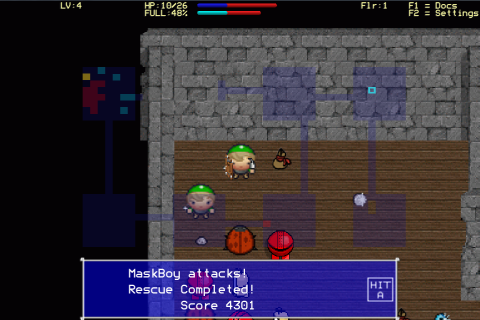 Go to the Desura page, the developer blog or the forum to learn more about Voyage to Farland. See you in the dungeons!