To maintain the aesthetic of simplicity, I began working on a new minimalistic GUI overlay. When you select anything on the environment, a menu will pop up with only TWO choices. Depending on the object, you will have the option to either farm, build, or upgrade it. The second choice is a cancellation button. Check it out below: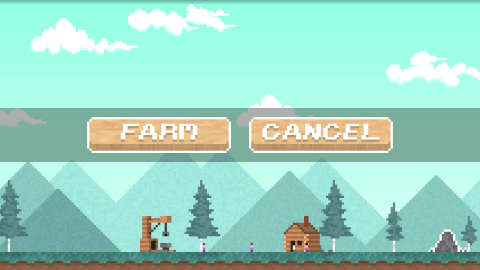 You may notice two completely new features from this screenshot. The first being a rock of some sort (on the right). This 'rock' is actually a mineral deposit for building other things such as that building on the left. This structure is the new 'Mine Shaft' which collects minerals at a consistent rate. The more you upgrade it, the faster it collects. Here is an animation of it:

I think it looks pretty cool and archaic. Afterall, you just survived a plane crash; technology would be very limited. When I'm designing these images, I can't help but think of Gilligan's Island (Older people should recognize that show).
Here is what it looks like when selected in game: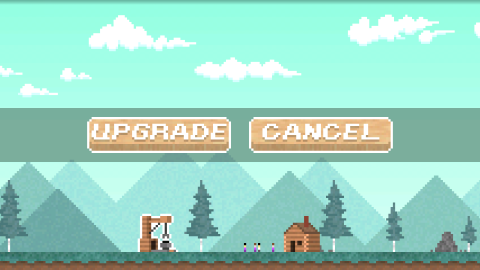 I'm currently working on a new system that selects the nearest person to complete a task. As of now, the people are pretty dumb in this game. They will walk up to the objective, and just wander around like a bunch of idiots. I really want to begin working on a quicker way to farm trees and minerals. Perhaps multiple people will stack up on a tree and complete the task faster. I'll play with that for the next update.
Thanks for reading this update! I've have received lots of exciting feedback this week from you guys so that's pretty cool!