Major improvements after 3.16 beta 3 are:
dogs - the price and behaviour
Changes apply mostly to their hunting behaviour, which resembled more that of a well-trained war dog rather than a common hunting dog.
* Hunting large animals
Dogs now primarily aim to block animal's escape route by heading in front of it in order to make it stop or to change its course. Most importantly hunting dogs now bark in alarm when they've got the animal cornered or momentarily stopped.
* Hunting small animals
Same tactics as with large animals, but dogs also tend to make occasional attacks and usually manage to injure their prey quite effectively.
* Hunting aggressive animals
No relevant changes. Dogs fight as bravely as they always do, with some individual variations in the mix. If cornered animal turns aggressive, the dog will fight it. If the prey animal escapes again, the dog tries to block its escape route and lets you know about it by barking.
* Dogs are now more valuable. Their price is tripled.
Hide quality depends on how damaged the carcass is.
If the carcass to be skinned is partially eaten or otherwise damaged the quality of resulting hide is accordingly lower, and skinning is more difficult.
The picture shows the results of skinnig a squirrel after killing it with several strikes.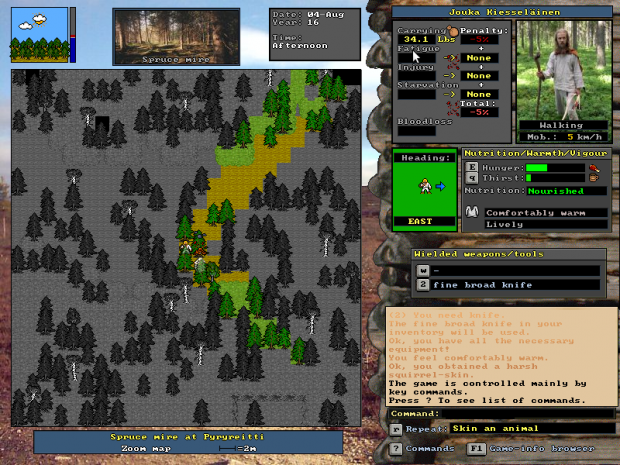 To download:
For complete changelog see Unrealworld.fi
Full game is free to play. Donations welcome!
More info at Unrealworld.fi