Blocks Available;

+ Grass Choco Block
+ Dirt Choco Block
+ Stone Choco Block
+ Sand Choco Block
+ Snow Choco Block
+ Water Choco Block
+ Lava Choco Block

Every creation needs a wall that's why all chocolate blocks will come with walls to match! The blocks listed above are only the basic building blocks of the game, expect alot more to come in future versions. Below is a screenshot showing the current blocks.




Day & Night Cycle

Every world needs a day and night cycle and that's exactly what you will find in 1.3. The cycle will go in the following order, Sunrise, Noon, Sunset, Night and then repeats. I've not included a clock but may in the near future. I will at some point be adding certain enemies who only come out during a certain time, that's something to look forward to!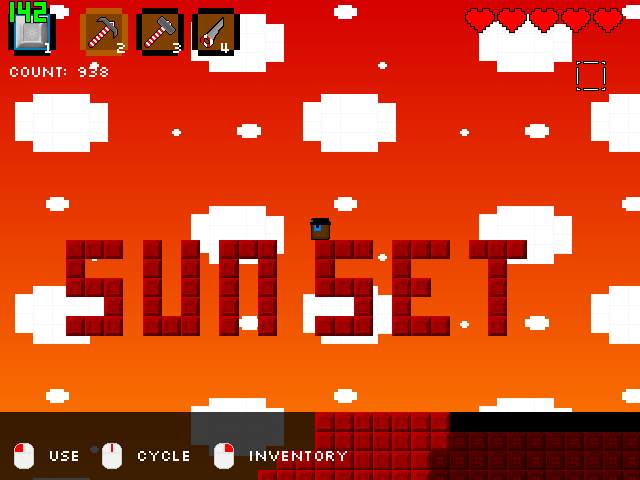 Trees

A world without trees? What!? So i added very basic trees to the game with more to follow in future versions. You have the ability to chop down trees, use them as a resource to craft items or simply make another tree from them. The choice is yours...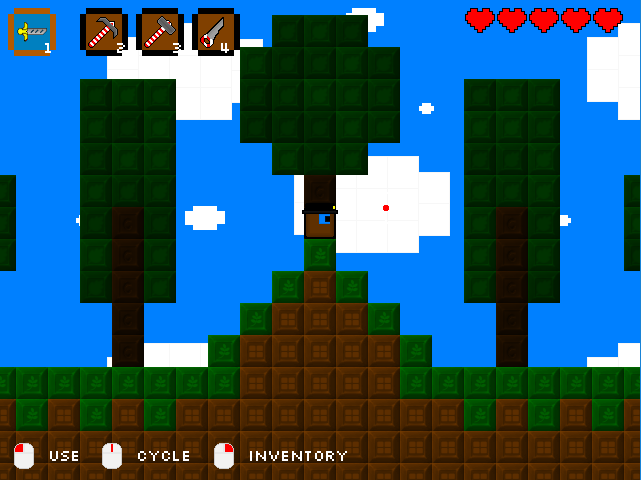 Lakes/Oceans/Water

Everyone loves an house by the lake, a pirate ship floating gently on the ocean or whatever floats your boat, but be warned if you submerge yourself in water you will start to drown once your air bubbles deplete.

Potions/Consumables

You now have the ability to drink potions or eat food to restore certain statistics such as health. Potions and consumables can't be consumed repeatedly and will have a usage time out.

Rope & Blaster Block

You can now place and use rope to get around the Chocolate World! You can also demolish rope so you can use it elsewhere. I've also added a "Blaster Block" that will fire the player into the air to reach hard to get places.

Weapons

So far i've only made one weapon, the Developer Sword. The sword as the highest attack rate as well as the fastest spin speed. This sword is mainly for testing purposes and may be removed in the full version of the game.

Double Jump

By default the player is able to jump then double jump to increase the jump height, this feature may be removed as a default and placed as a feature item that needs be crafted. For now the demo versions will have this as a default for testing purposes.

New Chocolate Symbols

I've added "Symbols" to the chocolate blocks center, this will help the player understand what block is what, for example: A green chocolate block with a leaf is a tree leaf, a red chocolate block with a fire symbol is a lava block and so on and so forth.

Place & Demolish

You can now place and demolish blocks, walls and vegetation, dig tunnels, create caves, build a castle or whatever you can think of. Get creative and see what you can come up with!

That's it!

That's it for now though there is more features in version 1.3 that i have not mentioned but i felt the main ones only mattered for now. Hope you enjoy what's to come in version 1.3, be sure to stay updated on its release!

Danny.