Hello everyone!
Welcome to the 1.1 update patch notes for Civics Expanded+! It's a relief to finally get this out! Now, onto version 1.2...
Anyway, here are the patch notes!
---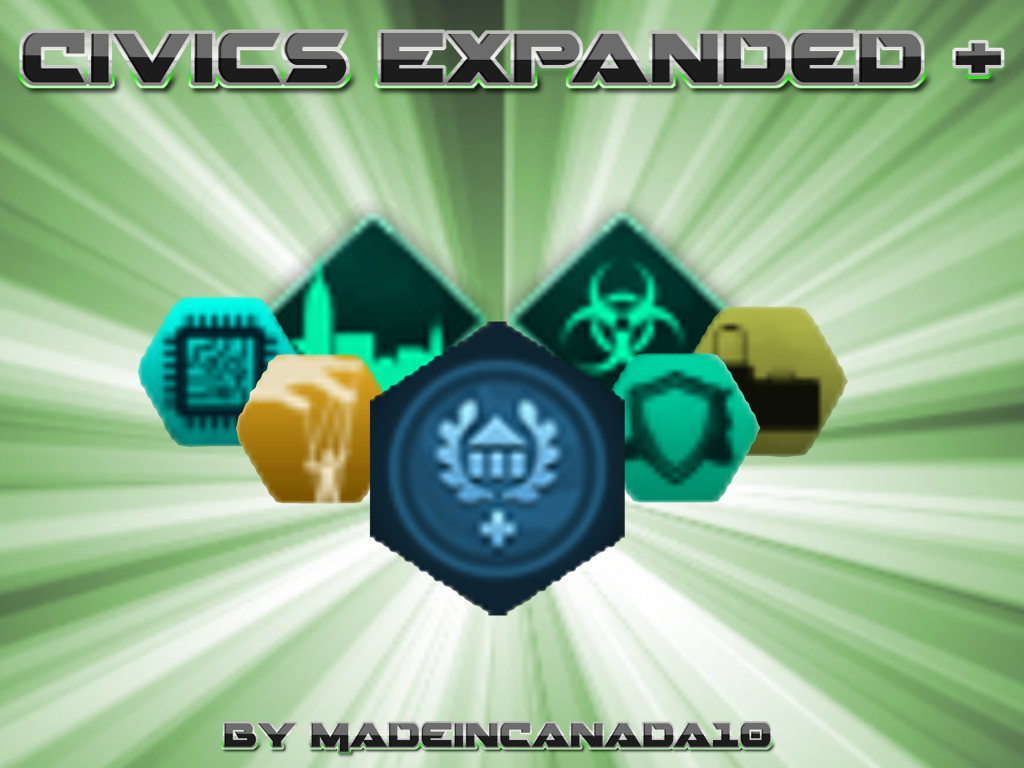 Update 1.1:
3 new normal civics: Masters of Architecture, Cache of Resources and Emergency Ship Defences.
5 new hive civics: Eye in the Sky, Voidswarm, Rapid Breeding, Research Driven and Total Control.
4 new machine civics: Routine Machine Checks, Diplomatic Competitor, Organic Friendly Interface and Mighty Processors.
5 new corporate civics: Travel Agency, Technocorp, War Factories, Constant Growth and Cooperative Upbringings.
1 new ascension perk: A Galaxy United
2 new policies: Religious Stance and Recruitment Policy
3 new edicts: Emergency Conscription, Mineral Enrichment and Luxuries Management.
3 new origins: Quest for the Seeders, Arcology Masters and Plagued Society.
Removed Gatekeepers, Desire for the Seeders, Clockwork Bodies and World of Metal civics.
Buffed and nerfed certain mod civics.
Changed some parts of the Quest for the Seeders event chain.
Several bug-fixes.
---
Okay, back to the issue mentioned last week. If you don't want to be spoiled, don't read this part. So, when you choose the Arcology Masters origin, it allows you to terraform other planets into Ecumenopli immediately, but the main part is that your homeworld is an Ecumenoplis. Now, the issue is as follows:
Your city looks like it's in the air. But only in empire selection. This is because that is what the Ecumenoplis background looks like, you just can't see it because your massive cities are covering it. However, in empire selection, I can't make the large version of your city appear (not to my knowledge). Again, once the game is loaded, this is fixed, because the game realises that it's an Ecumenoplis.
Oh, and after a few days, miner, farmer and other district jobs disappear, resulting in mass unemployment. This is partially intentional, but it'll probably be fixed in the next update.
---
That hopefully won't ruin your game, but I can't think of a way around it just yet; if possible, it will be fixed in the following update. Remember, there will be a dev diary on Friday. Have fun with the update!