The visuals of Exoplanet: First Contact have changed significantly since the Kickstarter campaign. The world of K'Tharsis has become much more alive and interesting thanks to new types of plants, animals, rocks and other remarkable assets. Much of this progress wouldn't be possible without our talented art director — Ivan Taranenko, who is going to tell you about his art career and his work on Exoplanet.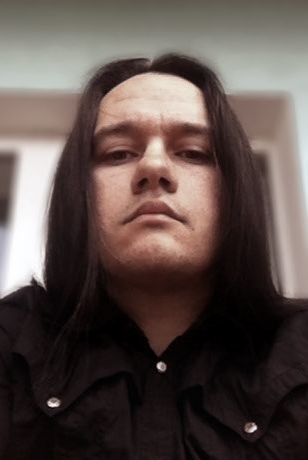 I'm watching you freelancer
I was interested in drawing, as well as in video games since my childhood, but after graduating high school I didn't even think about game development career and started studying software engineering in a university. After a while it became clear, that I'm not ready to dedicate my life to this particular profession and after getting my diploma I decided to try myself in advertisement by becoming a designer working for one of the agencies.
It is about that time that I became interested in graphics. A hobby grew into a passion and I realized that this is how I want to earn my livelihood.
After leaving the job in the agency, I started working as a 3D artist in a game development studio "Meridian'93" which was making desktop strategy games as well as freelancing for larger projects (such as Disciples III: Renaissance). This is where I honed my modelling skills, got familiar with animation and started to devote much more time to drawing, changing my line of work and after a while I became a lead artist.
Unfortunately, the studio stopped making strategy games and dived full-on into making casual ones, which I didn't deem interesting and deserving of my attention so I have left the job and started thinking about my own project.
A couple of my friends joined me — a programmer and a level designer. Together we started working on a small indie game Bravada. We spent two years working on it, and even though at the end our expenses didn't pay off, I have received priceless experience, learned a lot and got to know firsthand about many pitfalls and nuances of the industry.
The next significant project for me was Legends of Eisenwald. Here as a freelancer I contributed to the interface of the game, the map and designed the final version of the logo.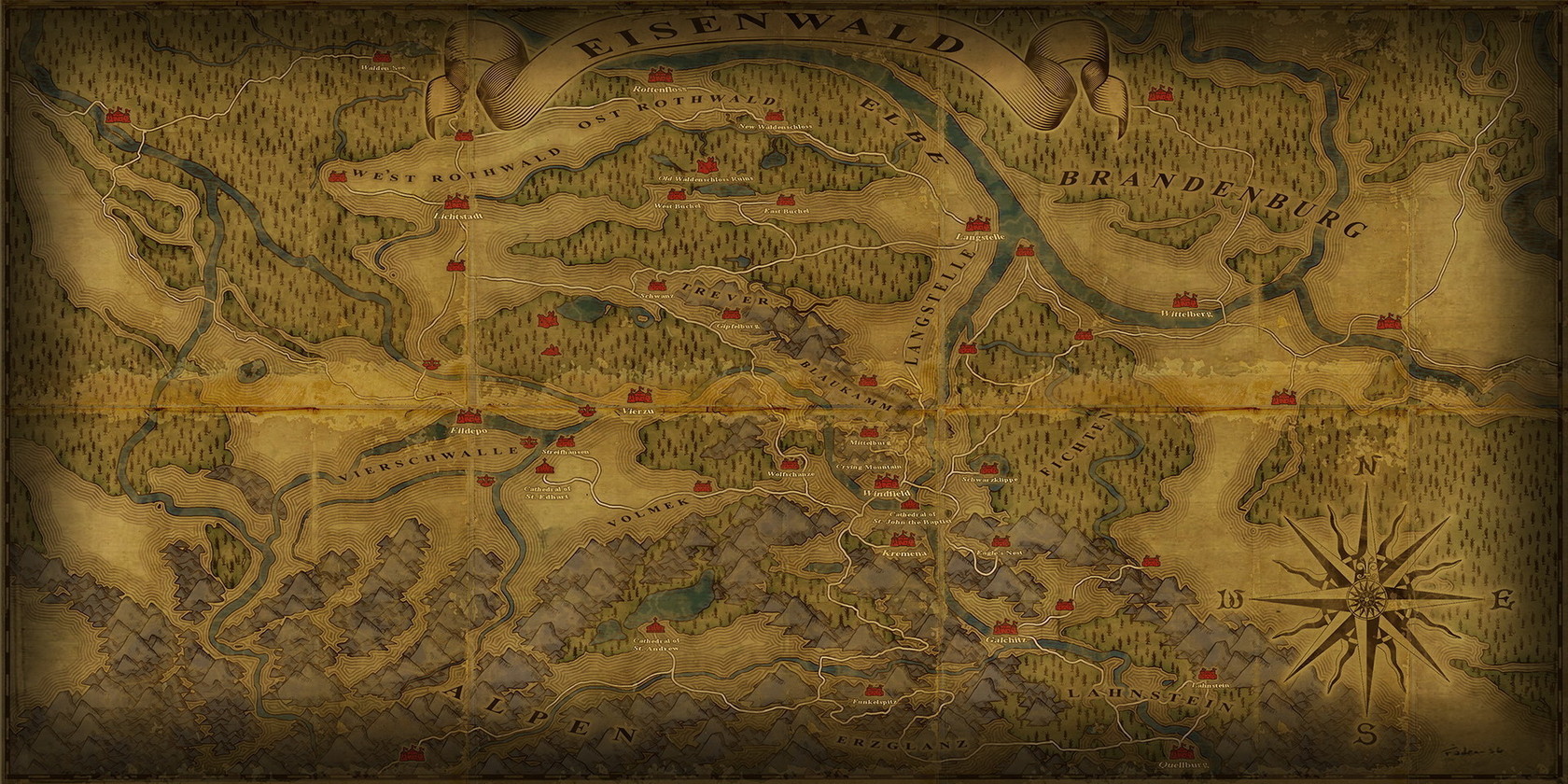 After Legends of Eisenwald I continued looking for a job and stumbled upon an ad on a forum which said that a small indie team is looking for an artist to work on rocks and cliffs. The project looked interesting, but unfortunately I didn't have anything suitable for that job in my portfolio at the moment, so that same evening I drew a concept and responded. That's how I became an artist working on Exoplanet: First Contact, and a few months later was promoted to an art director of the project.
Working on this game is incredibly interesting. I believe that we're producing beautiful concepts, especially characters and weapons. The unusual setting of space western is also very close to my heart as well as the genre — despite my passion towards turn-based strategies (Disciples) and stealth-action titles (Deus Ex, Dishonored), roleplaying games were always number one for me.
When I was a kid, my friend got a first PlayStation and we spent a lot of time playing Tekken and Twisted Metal. But I truly started loving games after I found Final Fantasy VIII — I was astounded by its story and how it managed to evoke my emotions.
Then there were Planescape: Torment, Star Wars: Knights of the Old Republic, Fallout, Fallout 2, Gothic — these games were masterpieces. And, of course Gothic II: Night of the Raven — this is probably the best Action RPG that I ever played.
This last decade changed a lot. We've got more powerful and functional engines, more polygons in the models, and the industry itself became more demanding towards highly qualified specialists. All this allowed to bring the visuals to a new level, which in turn affected the work of artists.
Dishonored's incredible visual style, The Witcher 3: Wild Hunt scenery that shock your imagination, colorful Uncharted 4 artbook, Metal Gear Solid art performed in sumi-e — all of these are wonderful sources of inspiration.
But there is also a fly in the ointment. I believe that contemporary games have lost their adventurous spirit: developers copy themselves time after time, reproducing models of successful projects with minimal changes. Sure thing, in this business every mistake has a high cost, but I'm hopeful that at least some of the companies are going to find the strength to change this situation to the good and step away from boring templates. Meanwhile, this lack of adventurism is going to be compensated by indie developers, and I would like it very much if Exoplanet: First Contact becomes such a brave and interesting project. Visuals and appearance play a huge role and are my direct responsibilities as an art director.
Most importantly, the game must have a consistent visual style, otherwise it's going to look like a patched blanket — unaesthetic and unprofessional. Therefore it is crucial to look after each concept, model and texture while improving the existing graphics and creating new concepts.
I spent a lot of time analyzing other games, looking for not only inspiration and references but for concrete technical solutions. As a perfectionist I believe in the ideal result, though I do understand that the process of improving certain things could be infinite. So I try my best to approach each task pragmatically, striving for the optimal combination of quality and spent time.
So how will the final Exoplanet: First Contact look? It's important to note, that despite a lot of technical and budget limitations we strive towards realism in the game: that's why we do not exaggerate proportions, especially in regards to weapons and characters.
Next we have landscape detalization. Gradually we add new types of plants, small stones — all this significantly affects location's appearance. Painstaking work is carried out on the sky: the most attentive players are going to notice that we've changed the sandy color to standard white-blue tones.
Nevertheless, the color of the sky is going to change depending on the location. Currently, I plan to create a couple of concepts that are going to demonstrate how the game world is going to look in different times of day and various weather conditions, be it rain or a sand storm.

We've also changed the water: our programmer made it look much more realistic, which is going to be even more noticeable with correct lighting.

Correct lighting is one of the most important aspects, which is going to allow us to improve the visuals of the game significantly. Right now, Exoplanet doesn't have the advanced dynamic lighting we want it to have, which notably lowers the beauty of the picture: for instance, objects in shadows seem to be flat and unrealistic. More innovative lighting techniques (skybox, ambient occlusion) are going to allow us to solve much of such problems, as well as unlocking the full potential of existing assets in the game.
Summarizing, it is important to note that such big project is a very ambitious goal for such a small indie company. But working with the team, I understood that people at Alersteam are passionately driven guys very much like myself: we understand each other well and are solving issues successfully. Everyone is eager to be the most use to the project as possible and are results-oriented. I believe that this approach will let us achieve our goal, no matter how ambitious.
We're always on the lookout for new ways to make our project known to even more people. And today we would like to make an important announcement: we're partnering with www.grabthegames.com. Its owner Rafal has helped us already on numerous occasions and is a close friend of our team. Like all of us, Rafal believes in Exoplanet's success and is going to help us however possible to reach even more players.
Finally, we would like to draw your attention to the fact that you can get updates about Exoplanet development not only from Kickstarter but also from other sources, and more frequently. So please, feel free to subscribe to our Facebook, Twitter, YouTube and other official feeds, and of course don't forget to check out our forums and participate in discussions — we're trying to get the news out there daily.
Furthermore, each your like, share and repost helps us find new interested players, and we're grateful to each and every one of you who recommends us to your friends.
Thanks a lot for your support.