Before Starting Your VR Checklist
Before logging in any VR time you will need to find a way to mount your base station sensors, preferably on the wall to keep them nice and sturdy for optimum tracking. Drilling them on the wall using the standard brackets that come with the HTC Vive, is probably the best manner of installing them. However, this is not always a viable solution for everyone so we look at alternative options mentioned below:
Mini Tripods: Mounting solution #1
The simplest way to make your HTC Vive portable and avoid holes in your walls is to use small heavy duty tripods, while using existing furniture to provide height. Once in place you can fine tune the placement & angle of the sensor for tracking.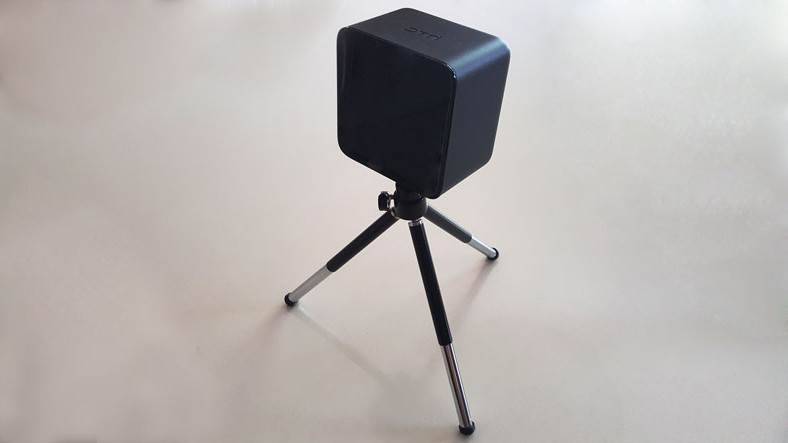 Large Tripods & Floor to Ceiling Poles: Mounting solution #2
Larger tripods with adjustable heights provide a great alternative to the conventional wall fixtures. However, these tall tripods require a wide base stance to provide stability which unfortunately eats up your play area space and minimizes your footprint (not to mention a trip hazard).


There is an other solution which virtually occupies non of your play area and that is the use of floor to ceiling poles with camera mounting brackets.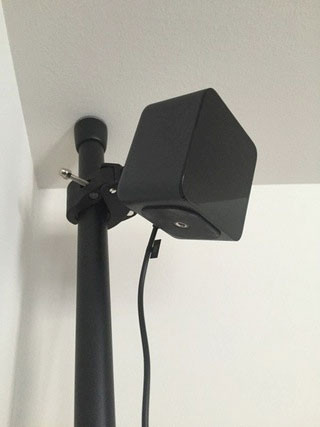 The beauty of these solutions are you can quickly and easily install the HTC Vive sensors in any room without drilling any holes in the walls. The gives you the flexibility to take it all down if you have guests and do not want to show your geeky gaming side and also means you have a VR traveling kit that can be used on holiday in any apartment or hotel room!
---
Achieving Highest Image Quality On The HTC Vive
As we know the whole point of Virtual Reality is to get as close to "reality" as possible. Therefore image quality plays a huge role and the best way is to improve on your VR experience is to increase the image quality by means of a pixel density sampling hack. In order to achieve this, you need to edit your Steam file, however, be warned, you will need a high end video card not to sacrifice too much CPU.
Super Sampling Pixel Hack For Increased Image Quality
Find your Steam option folder (c:\program files (86x)\steam\options\).
Find file steamvr.vrsettings and open on notepad
Add a comma and the line "renderTargetMultiplier":2.5.

Save file.
Launch the game and adjust the multiplier value depending on the performance.
Keeping The HTC Vive Clean
One advantage of the Vive over the Gear is that it does not get as dirty, so this step is a little less hassle, but still needs to be done on occasion. It is important to keep your lens clean as even the smallest specs of dust can interfere with your VR experience. Not only that, keeping your lenses regularly clean also prevents them from scratching which will end up resulting in a permanent negative experience. Here are 2 of my favorite ways of maintaining perfect lenses.
Dust the lenses in a circular motion using a microfiber cloth, the idea here is to get rid of the excess dust resting on the surface, so there is no need to apply too much pressure.
The second option is using an air rocket which is a non contactable method of removing the dust particles.
Prescription lenses
We often forget that image quality (or lack of) may be a result of our own poor eye site. People with small framed glasses may get away with putting their headset over their glasses, but for those who cannot, it is entirely possible to get prescription lenses for your HTC Vive to give you that perfect image quality.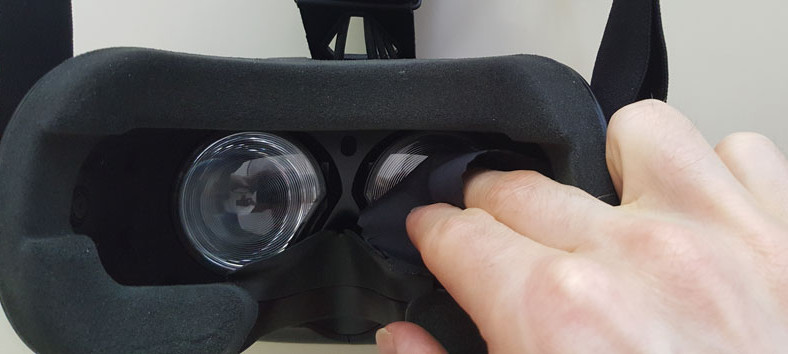 ---
Combating Motion Sickness Associated With VR
Motion sickness is quite common in VR, one aspect is the "jitter" effect you may get if not setting up your base stations properly (more on jitter and how to combat it below). However, in this example, we will be looking at the effects produced by the games themselves.
Racing or any other games that involves rapidly throwing your about are the worst offenders. So try avoiding playing them for long periods of time (at least until tunnel vision technology is further improved).
What you put in your stomach just before playing can also have an adverse effect to motion sickness, so try not eating before challenging the VR world. Like anything, technology is always improving and new techniques are being implemented to reduce this motion sickness such as implementing a virtual reality nose... yes you heard correctly, by being able to see parts of your nose in the game, this helps prefect motion sickness.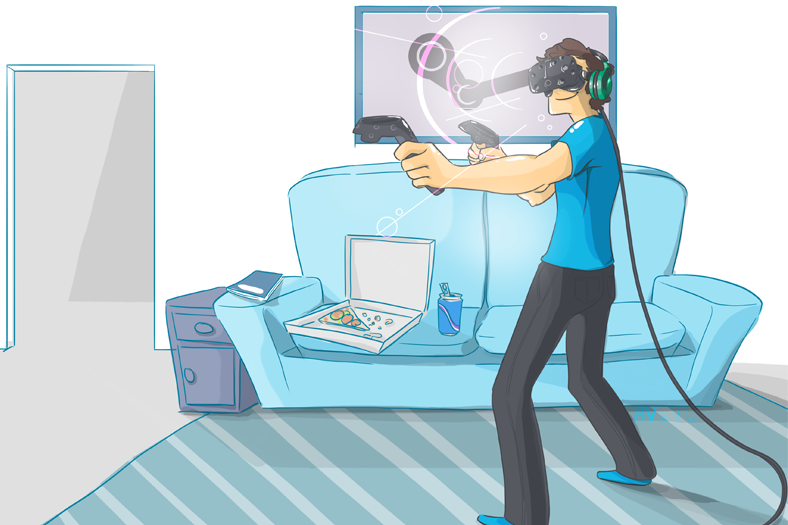 ---
Jitters & How To Minimize It
Note: Some movement is normal, but if there is notable shake then take a look at the 6 steps below to try and rectify the problem:
We mentioned motion sickness above and although "jitters" and "motion sickness" are not quite the same thing, they both can produce the same sickly effect on your body.
Jitters can be a little difficult to determine and in fact if you are new to the VR world you may not even notice it is there at first. It is only after clocking up some VR hours, you may start to notice the jitter that was actually always there, so it is always a good idea to do some testing before hand.
One of the simplest and first tests to do is to leave your HTC Vive headset on the ground (right in the middle of your play area) and then take a careful look at your monitor to see the level of jitter / wobble taking place.
If the problem persists, then follow the below steps.
Secure your base stations firmly (drilling them into the wall is the most stable option). Be sure to also tightly secure the wing nut that holds the bracket to the station.

Base station should be positioned in opposite corners of your VR space (unrestricted view of each other).

The recommended optimum height of the base stations is 6.5 feet (2 meters). This allows for a decent birds eye view of the play zone for accurate tracking.

Once fixed in place, position the base stations downward between 30° & 45° so it points to your play area. Be sure to tighten the clamp back up tightly so the stations do not drop with gravity.

Remove the protective films from the front face of the base stations and clean up the surface from any grease such as grubby finger prints.

Avoid anything reflective that can reflect direct light back into the base stations, this can effect accurate tracking. Remove mirrors, wall pictures with reflective glass, TV sets etc.

---
Recording Your Gameplay So Others Can See What Your Seeing
Recording yourself while playing your VR games can be great fun. There are different software out there that can help you out with this and choosing the right one for you very much depends on your requirements and computer's specifications.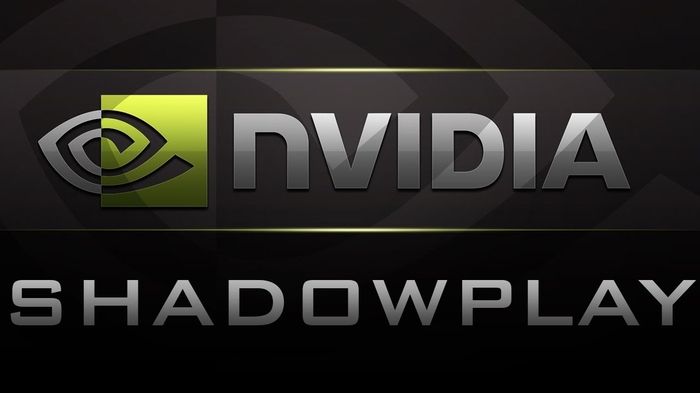 Here we look at two options for recording your game play, Shadow Play & Open Broadcaster Software (OBS).
Installing Shadow Play
Go to Geforce.com
Click download button and install to PC
Preferences > Shadow Play > Set file location (where you want to save the file on your PC)
Select "Camera On" - to activate camera
Launch HTC Vive and select game to play
Apply full screen > Job Simulator (top left of screen)
"Alt F9" to start recording
Capabilities & Limitations
Shadow Play is less demanding in terms of performance than OBS
Limited to NVIDIA graphics card (incompatible with AMD)
---
Installing Open Broadcaster Software
Go to Obsproject.com
Click download button to install (depending on OS)
Right click Scenes > Add Scenes > provide name
Right click Sources > Add > Window Capture
Window drop down menu > Job Simulator
Click "Start Recording" button to record
Capabilities & Limitations
Capable of using different overlays of cameras (including front HTC Vive camera) & microphone recording all at the same time all in one application
Perfect alternative for non NVIDIA graphics card users
Extremely demanding on CPU & GPU resources.
For more information on how to record your gameplay with these mentioned software watch this interesting Youtube video.
---
General Troubleshooting Of The HTC Vive
It is no secret that the Vive release was a rushed job and like with anything rushed, comes problems. This desperation to get the system out sooner rather than later resulted with a headset that came with its fair share of bugs.
Of course these are slowing being resolved, however, there are still several issues that need attention. They may not be a huge list, but all it takes is not being able to resolve one problem and you are left without a working machine.
I bring you some undocumented fixes the might help you get on your way.
Problem Detecting Headset
My headset was throwing an Error 508 and for several weeks I could not figure how to resolve this problem. It turned out that all my issues were resolved when running Steam as an administrator... to do this:
Install both Steam and SteamVR normal
Close Steam down
Right click the Steam icon (not SteamVR) > Run as administrator
Problem Loading Games
As we know, the Vive is meant to be compatible with Windows 7 & 8.1, however, through testing, you will really need to be using Windows 10. Running your system through Windows 10 platform will minimize much of the issues and bugs you would have if using 7 & 8.1, so get a head start and upgrade if you can.
Unofficial Video-card Compatibility
Although using such cards as the GTX 1080 will definitely give you a better VR engagement and experience, they certainly aren't necessary as HTC Vive suggests. It is still possible to run the GTX 780 video-cards (or equivelent) while having a great VR experience, however it is always good to do some checks first.
Determine if your computer is able to run VR applications, you will want to download the official Steam VR Ready testing tool and test out your hardware.
Go here for the complete and original tricks and tips HTC Vive guide