- UAYEB VIDEO GAMEPLAY 02:
In this second gameplay video, you will see 8 minutes of gameplay taken from the Uayeb Demo version.
- UAYEB makes its first steps on the Steam Greenlight, and it has now its Concept page!
It means that you have now different options on Steam available:
You can rate the game (if you like it or not).
You can add the game to your Steam favorite.
You can follow Uayeb on Steam (to receive all news).
You can Share Uayeb with your Steam friends.
You can add the game to your Greenlight collection.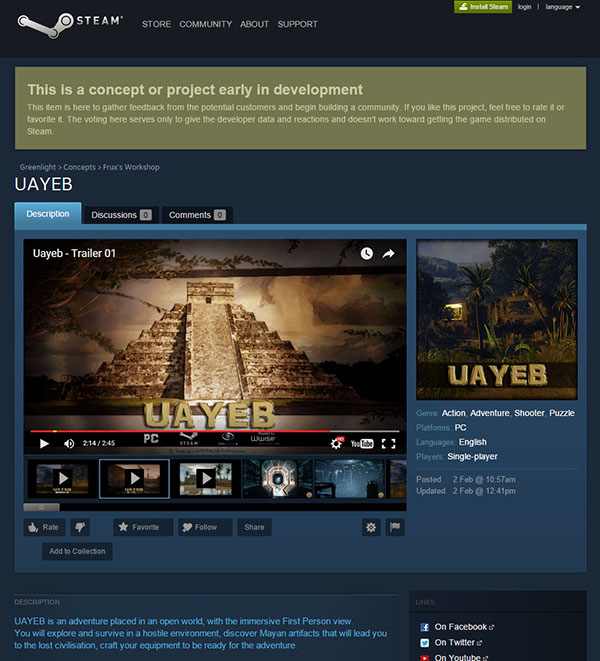 UAYEB is an adventure PC game placed in an open world, with the immersive First Person view.
You will explore and survive in a hostile environment, discover Mayan artifacts that will lead you to the lost civilisation, craft your equipment to be ready for the adventure.

- 7 different episodes are planned through the whole story
- Survive, adventure, investigations, puzzles, weapons, vehicles, are plan to be part of Uayeb world.

SURVIVE
Drink, eat, sleep, aware of cold and hot places, check stamina, heal, recharge batteries, get weapons and ammunition.

EXPLORE
Follow the path of the Mayan civilisation.

CRAFTING
Find blueprints and resources to build up your equipment.

FIGHT
Defend yourself against hostile survivors.

UAYEB is developed by on person only, and it is currently in pre-alpha version for Windows PC.

Stay tuned for more updates!

Please support the project with a like on the video, on the Facebook page, and subscribe to the UAYEB Youtube chanel to know when the next video is ready to watch.


Steam: Steamcommunity.com
Indie DB: Indiedb.com
Official site: Uayebgame.com
Facebook page: Facebook.com
Twitter: Twitter.com

Uayeb © Copyright 2014-2015 ICA GAMES