Trisector v1.0.5 (213) was released on the App Store on Dec 18th, 2013. This update focused on a complete level revamp, improving enemy weapons and patterns, and UI/HUD improvements.
Level Redesign:
The tutorial and story levels were all redesigned to bring the bullet and laser filled action. Each level should provide a more consistently challenging run.
Enemy Bullet patterns:
The enemy ships are now equipped to fire bullet patterns instead of the normal bullets. Unlike the normal red bullets, the orange pattern bullets will destroy the player projectiles when hit. These pattern projectiles are both an offensive and defensive weapon used by the enemy ships.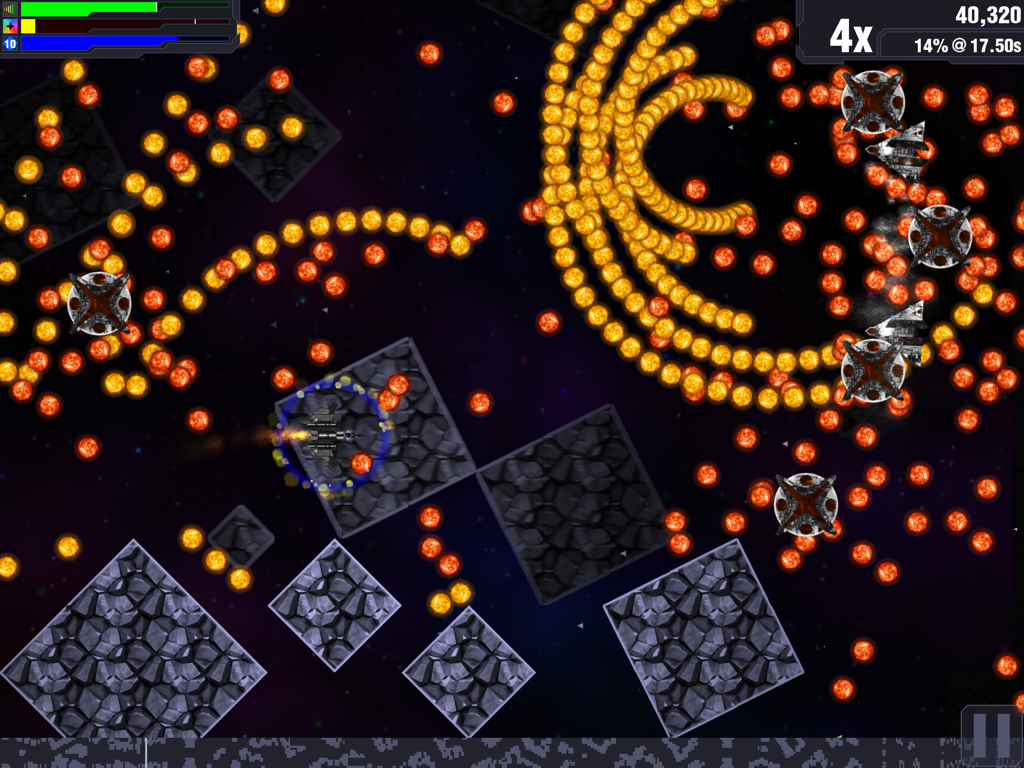 Enemy Lasers:
Some of the enemy ships are now equipped with beam lasers which are high impact and very deadly. These lasers are usually fire in a short burst followed by a period of recharge. They must be avoided at all costs. There is rumor of a new Tri-Corp beam turret that can fire their beam lasers for a long period of time and sweep them in any direction.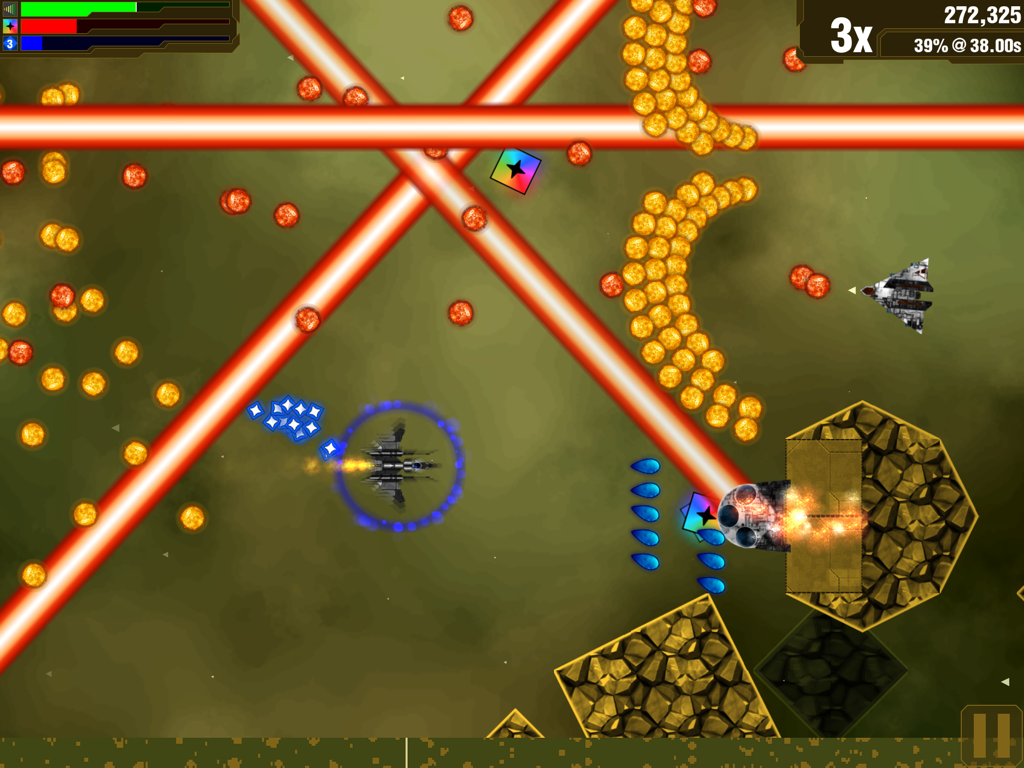 XP Meter:
The enemy bullets and pattern bullets are turned into xp pods when destroyed, and the ship has a xp pod attractor that automatically collects the xp pods. Each xp pod collected goes towards increasing the xp level, which reduces the ship's energy costs for weapons and shielding with each new xp level.
UI/HUD:
The user interface and the heads up display were completely redesigned for this update. The HUD now includes the meters for speed, energy, and xp in the top left, and progress, score, and score multiplier in the top right of the screen. Additionally, the UI now provides for a more modern and minimal look throughout.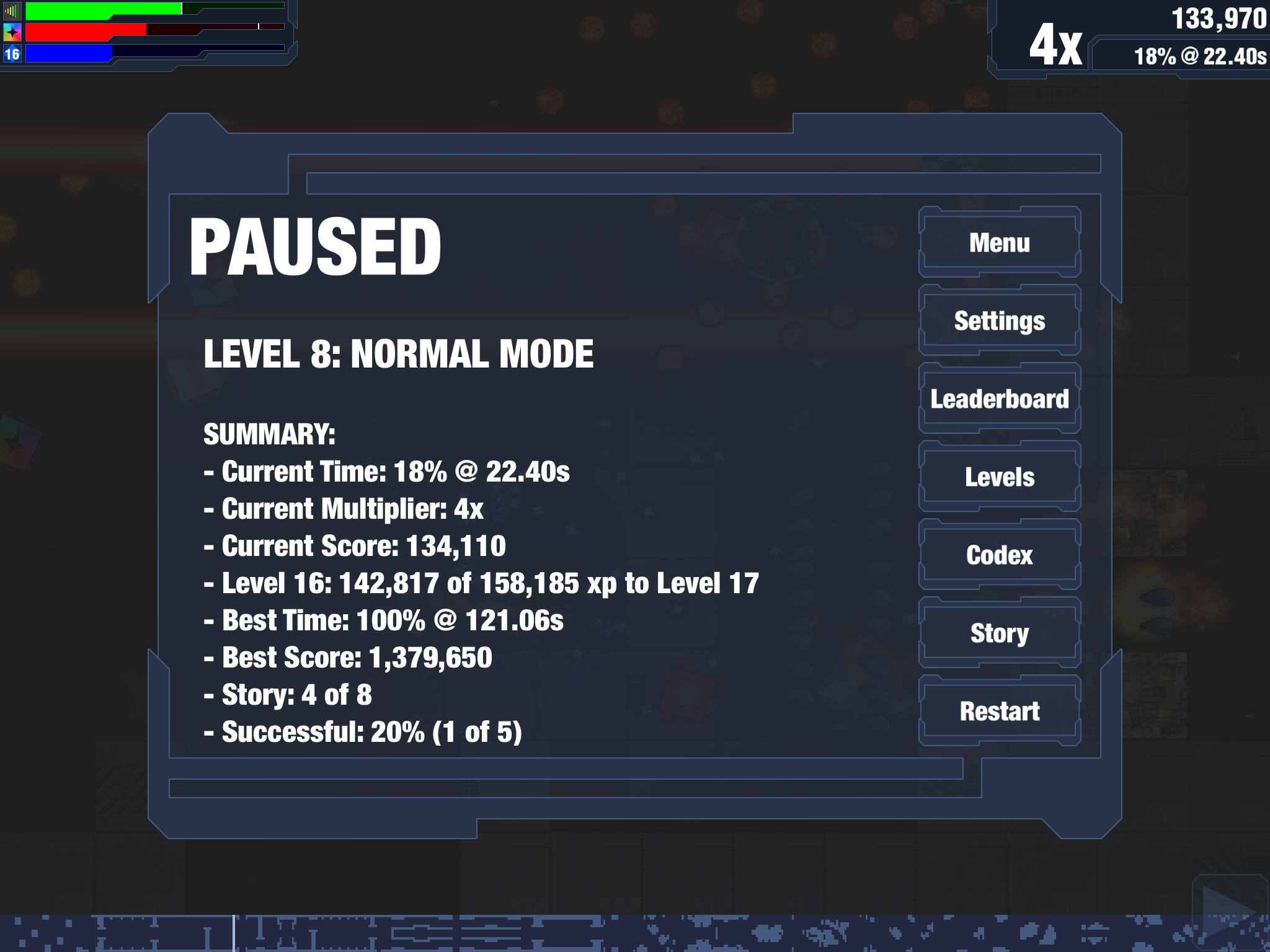 Full v1.0.5 (213) Changelog:
Completely redesigned all levels
New UI and HUD
Speed based zoom
Player ship now moves in all directions
Enemy AI and movement improvements
Improved player bullets
New and Bigger enemy bullets
Enemy bullet patterns
Enemy lasers
New enemy beam turret
Ramming pauses energy regeneration
More starting energy and increased energy capacity
Story nodes now grant a starting Weapon, Energy, and Speed bonus
XP pod attractor improvements
XP meter: reduces laser cost and shielding cost based on XP level
Level select tips
Smart button improvements (pause, restart, next level)
Game auto starts after selecting play from level menu
Game Center improvements
Now requires iOS 7 or higher
Bug fixes