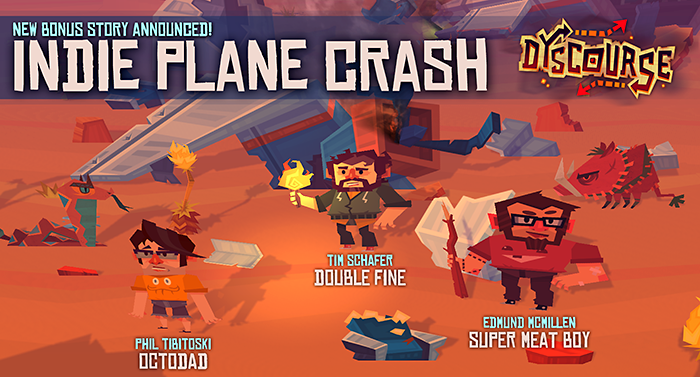 So what the heck is this? "Indie Plane Crash" is a new bonus scenario in Dyscourse featuring the story of a group of indie game developers who crash landed on their way to a conference. This group of amazingly talented creatives realizes that while technically talented, they're utterly useless in survival situations.
The cast of characters so far confirmed to be marooned include:
If you've ever been the least bit curious as to whether Adam Saltsman could actually outrun a roadrunner or whether Rami Ismail truly is ridiculously good at fishing, look no further than this scenario, which will ship with the final game!
We're very excited to be building Dyscourse, including this amazing new bonus scenario, which we'll be bundling with the final game at no extra cost -- but this is where we need you.
Help fund Dyscourse and spread the word so we can make all of this a reality!
-The Owlchemy Team
Share the love on the Twitters or on Facebook!