Hello there!
There Will Be Ink is now available on Steam (Early Access)! In addition to that, a new update has been released, Beta 1.1, with some interesting new features, enhancements, and fixes. Oh, and there is a new music track, featured in this brand new trailer. Check it out!
The game's Steam page can be found here:
And the game remains on itch.io as well: Summitfever.itch.io
Alright, onto the new stuff!
Team Colours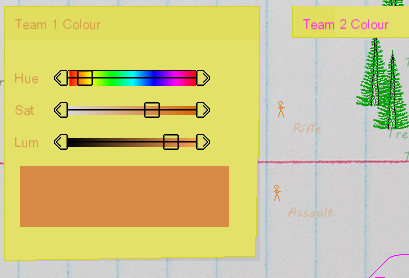 Team colours can now be adjusted in the map editor using a set of sliders, one each for hue, saturation, and luminosity. This allows for a little more creativity and customization. Along the same line, I plan to add alternate paper and background types as well.
T-Rex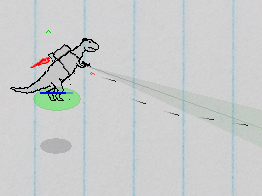 I've had it in my mind for a long time to add a T-Rex with a jetpack and an uzi to the game, why not? At last, the day has come! I haven't quite decided whether to make the T-Rex a full time, regular unit or not, so for the time being [SPOILER ALERT] it comes in the form of a mysterious crate powerup. The T-Rex is unlocked once the player defeats 100 enemies. From that point on, with each kill there is a 1% chance (plus an additional 1% for every 1,000 campaign kills) for a T-Rex crate to drop. The T-Rex has a lot of health and is equipped with an uzi (new). Instead of going prone, the T-Rex has a jetpack (obviously), which uses up stamina. If the T-Rex falls from high enough, it will create a shockwave that damages nearby troops, enemy or friend (and if there is enough force a crater is left).
Campaign Progress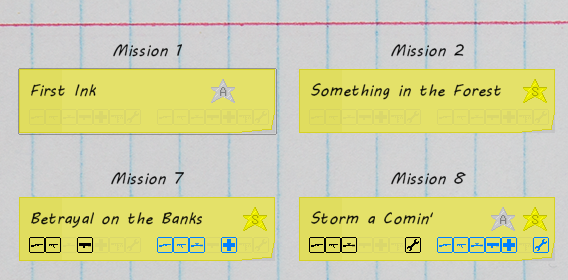 Campaign progress now tracks whether a mission has been completed in Arcade mode or Sim mode, with a silver 'A' star for the former and a gold 'S' star for the latter. Completing a mission in either mode will unlock the next. For now the stickers are mostly for bragging rights, but I may introduce unlocks (powerups etc) or achievements based on them in the future.
Other… Things
Here also are some other things!
New music track: "Paratrooper Glide". A shorter version of the song is featured in the new trailer
New terrain: small rock. It is a small rock.
Two new campaign maps: "Betrayal on the Banks", and "Storm a Comin'"

I also reworked most of the text for the existing campaign missions

New map filenames in the Editor now have a number suffixed to them, to avoid overwriting any maps that the player forgot to give a file name
Weapon sight position is now affected by recoil (in sim mode) when playing with the mouse. It makes its way back to the mouse location more quickly with unit rank
Gamepad aim is no longer affected by recoil in Arcade mode
Reduced base evasion of all units to 0, making them easier to hit (don't forget to use cover!). Evasion still goes up by 5% with each rank increase.
There is now a slightly delay in handing over controls to a new unit after a player-unit dies, to reduce the occurrence of accidentally thrown grenades (this used to happen a lot to me)
The player indicator now flares up in size when control changes to a new unit, to make the new unit more obvious
Multiplayer: Players are now re-assigned to new units in the order they were killed (instead of player one first, player two second, etc)
New sounds for Magazine Hyperexpansion and Longevity powerups
New weapon: Uzi! Though only the T-Rex has access to (a larger version of) it at the moment
Many smaller enhancements, changes, and bug fixes
Up Next…
I've got a lot of ideas in queue, and much work to be done on what's already there, but I'll also be listening closely to player feedback to address any issues and possibly implement any new ideas that fit with the game. Please send all comments, ideas, questions, and insults to hi@summitfevergames.com. I'd also love to play any maps that players might make (typically found at %localappdata%\ThereWillBeInk\Maps\).
Thanks, everyone!