Ahoy there, Catptains!

First, I'd like to quickly mention that I've removed the old alpha demos from IndieDB, as they were no longer representative of the game. I may yet re-add a demo once version 1.0 is released. In the meantime, please check out the latest version of There Will Be Ink on itch.io or Steam!
There is a good bit going on in this update. I'll get into the details of the bigger parts of the update before getting to the change log down below. Here we go!
New Unit: Zaponeer!
The Zaponeer is a new combat unit with some pretty state-of-the-stick-art gear. First off, the Zaponeer sports a nifty new laser rifle, which is a pretty steady weapon (low movement & recoil penalty, not affected by wind) with slightly shorter range than the standard rifle but with more ammo capacity and dealing more damage. The Zaponeer starts with armour (30% damage reduction) as a ground soldier and can be equipped with a jetpack using training points on the Barracks page. I've updated unit AI so that non-player troops, including the Zaponeer and T-Rex, will now use jetpacks. Watch out for that dino smash! Right now the jetpack is the only unlock for the Zaponeer, but more abilities are on their way.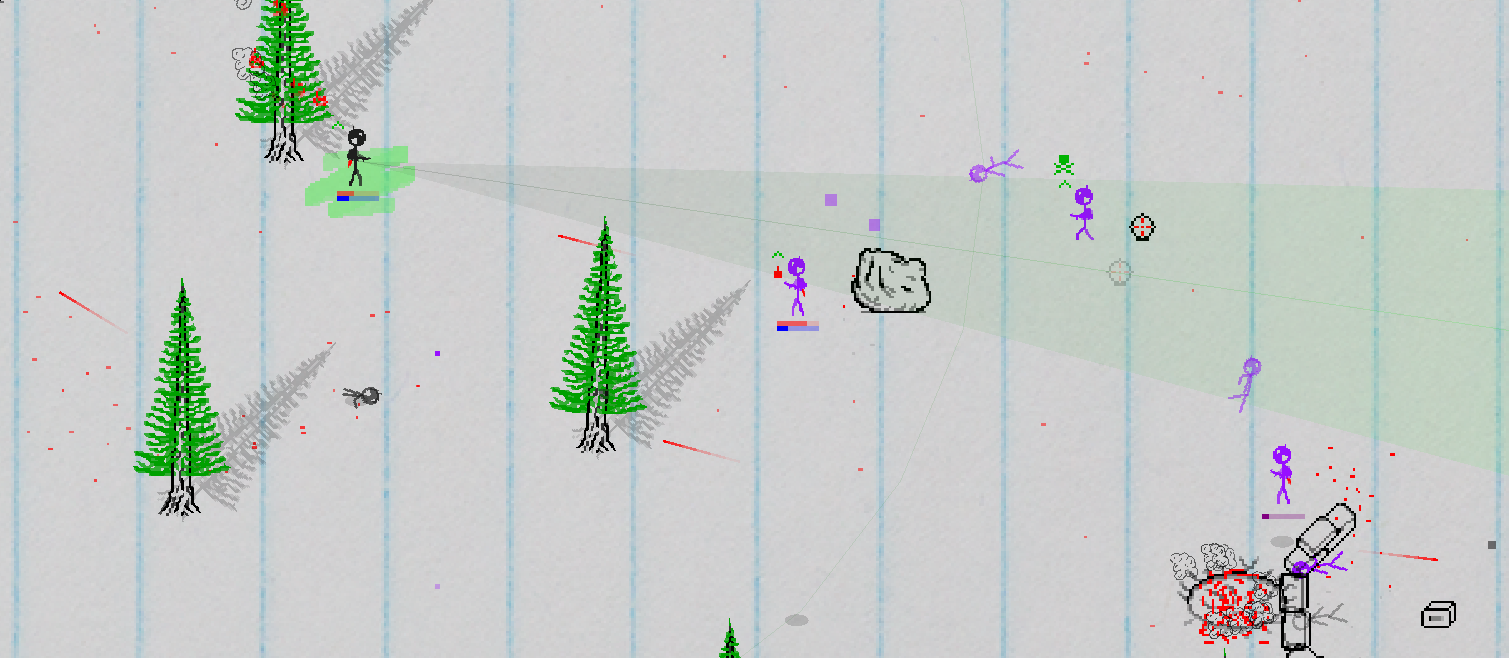 Campaign Customization
Campaigns now track stats separately, so units and abilities unlocked in one campaign won't necessarily be available in another. For the existing Beta & Alpha campaigns, if they are already in progress, data is duplicated where it's currently at and branched from there. This separation will make it easier to balance progression within a campaign and also works better with other campaign customization. For instance, Campaigns now have a unique set of units that show up on the Barracks page. In the upcoming Campaign Editor, there will be something along the lines of a list of units with checkboxes to enable them in the campaign. There is also a little info sheet on the main menu that gives a quick description and difficulty level of the current campaign.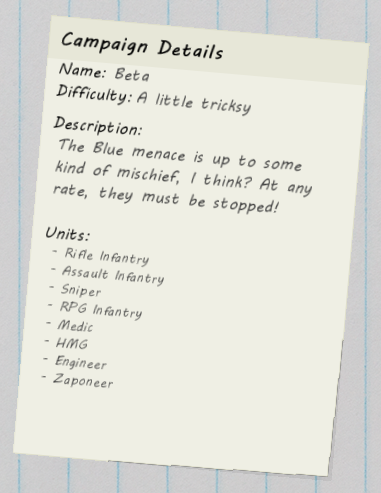 Tutorial Campaign
It's been a long time coming, but there are now the beginnings of a tutorial campaign in the game to help ease in new players. At present the campaign consists of just one mission (covering movement, rolling, running, stamina, exhaustion), but more are on their way. The tutorial mission makes use of a new map customization code system that will also be used to create more variability in other missions.
Call Medic/Backup
Have you ever had a superstar unit ranked up to the max but badly wounded and no medics nearby? Well now you can call for a medic ('M' on keyboard, d-pad down on gamepad) and the nearest medic will come to your aid. Similarly, you can call for backup ('B' on keyboard, d-pad up on gamepad) and the nearest combat unit will come to your aid (unless they have the "hold position" behaviour). Calling for backup can be done repeatedly and each time the next nearest comrade will come to your aid.
High(er) Definition Art
This process was started previously with updating weapon sprites, but I've carried on to update all unit sprites and trees. It is a subtle effect, but it gives the units a less pixelated look, especially when zoomed in. Here is the old vs. the new: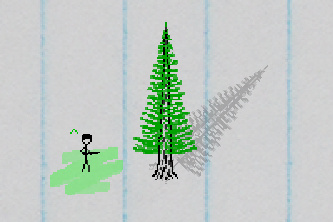 vs.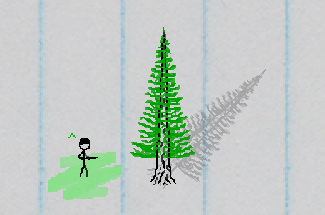 Shocking! Right?
New Missions
There are three new beta campaign missions featuring the new Zaponeer unit: "Zaponeer!", "Blast 'em", and "Rugged Country". Check 'em out!
What's next?
Well, there is a lot in the works, but, most immediately, something jolly this way cometh…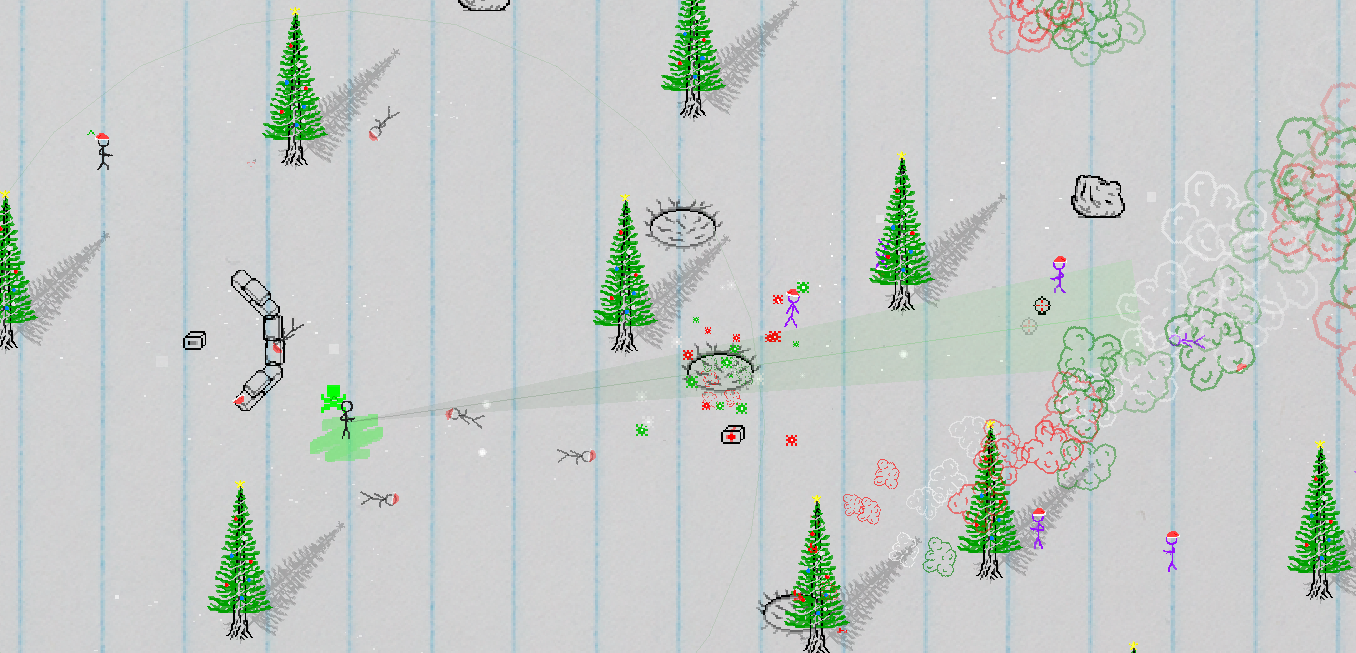 Changelog
New Features & Content
New Unit: Zaponeer! Laser rifle infantry with armour and a(n unlockable) jetpack
Created new Tutorial campaign, so far consisting of one mission on walking, running, rolling, stamina, etc
Added "Campaign Details" note to main menu page, listing active campaign name, difficulty, description, and units
Added new player ability: Call medic
Added new player ability: Call backup
Added three new missions to Beta campaign: "Zaponeers!", "Blast 'em", & "Rugged Country"
Added new 'MCODES' to map files: allows for greater customization to maps down the road
Added stats for Zaponeer
Added Zaponeer to Quick Battle page
Added seasonal content to unlock soon…
Changes & Enhancements
Unit progress and campaign stats are now tracked separately for each campaign
Doubled resolution and fidelity of all unit art & animations, including T-Rex
Doubled resolution of trees
Shifted positioning and eliminated gaps between unit spawn icons over barracks (in battle)
Added a "max height" value to jetpack units; climb speed now slows when approaching this height
AI: Flying (ie jetpack) units now fly when approaching target or attacking
AI: Flying units no longer try to seek cover
Increased speed boost of jetpack
Changed order and spacing of main menu items
Stamina bar is now drawn for non-player units
Changed the default campaign for new games to "Tutorial"
Optimized code around how wind affects projectiles
Legs can now have an armour rating (as with Zaponeer)
Custom text that shows up on Missions page is now based on the active campaign
Units available in a campaign are now customizable and dynamically loaded (hard-coded for built-in campaigns)
Modified engineer helmet sprite
Bug Fixes
Fixed bug where Assault & RPG units were using ancient alternate torso sprites
Shells now fall from the proper height for jetpacking units
Legs & head of flying units no longer separate when rising or falling
Units exploding in the air no longer leave a crater
Flying units will no longer collide with ground units
Fixed bug where 'dust' left by bullets was sometimes the incorrect colour