Hello everyone 8:()
My name is Leon Sadler and my game The Unbreakable Chain is live on Desura June 08th 2013
I am a co founder of the UK art collective FAMICON (www.famiconexpress.co.uk). As a group, our current focus is limited run art books. Back in the day we also made a bunch of internet animations including "Bart The General". Independently I've been commissioned by loads of great companies like Nike, Vice Magazine, and Nieves. For examples of my work please visit www.lmsn.eu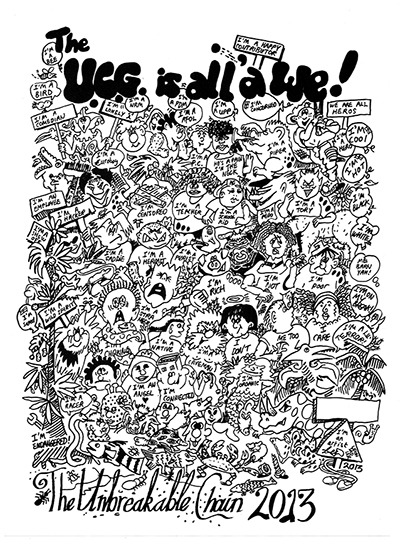 I first started working on this project in 2009. Four years later, the Windows version is finally complete!
It's a game with eight stages. Each stage is from the point of view of a different species, with a different gameplay mechanic. The overall experience is intended to be left quite open for personal interpretation. It's pacing/flow takes some cues from the 2004 Grasshopper Manufacture game "Michigan: Report From Hell".
"people talk a lot of this and that about 'art as games', and while i personally feel that this is a case by case issue uniquely specific to each title and the intentions of its creators, i truly believe that every single frame of animation in this game is a true 'work of art', both in terms of illustration and graphic design. you can screengrab any moment of it, and have a 'leon sadler original' ready to print. if you ever wanted to 'play' one of leon sadlers drawings or comics, this is the closest you will ever get." - GHXYK2
Following the logic and scientific ideas such as the food chain and evolution, let's step into this drawing, have a walk around and see what there is to eat. Why are computer games so challenging? Who am I playing against? Why don't I play WITH the game, or just sit back and see what happens? Why am I competing with god?
If this sounds interesting to you, please join the community at Facebook.com , add The Unbreakable Chain to your Desura watchlist, and get ready to check it out when its live on June 08th @ Indiedb.com