Greetings Troopers!
We together with Black Intel have arranged a special night of First Strike action to mark the end of an era as the Black Intel Clan (BI) closes their First Strike division. Black Intel have been with us since the early days of First Strike, and a commanding presence in the FS Community, so it truely is the end of an era. So we'd like to see them go out with a bang.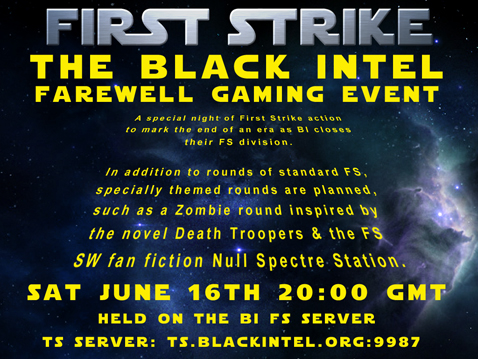 In addition to rounds of standard FS, specially themed rounds are planned, such as a Zombie round inspired by the novel Death Troopers & the FS SW fan fiction Null Spectre Station. These will involve special rules to facilitate the effect of fending off a Zombie horde within our standard multiplayer conquest experience, so it is strongly advised that you jump on the Teamspeak server on the night to stay informed of these rules, though they will be posted on our forums prior to the event night.The details for the event are as follows:
The when: Saturday June 16th 20:00 GMT
The where: To be held on the BI First Strike Server
The talk: Teamspeak Server: ts.blackintel.org:9987
We look forward to seeing you there for this very special First Strike Event.

See you on the Battlefield Troopers!