Posted in Marketing & PR | May 21, 2013 | by Tiare Feuchtner
The last week provided a little more excitement than usual – even apart from the constant thrill of running a crowdfunding campaign on Indiegogo, which regularly makes us wake an hour early, heads full of new ideas, challenges, solutions and worries. The reason was the upcoming GameStage in Linz. We were invited to show off our game alongside the other fellow game-devs from Austria.
Even after we've been at it for more than a year now and after several presentations at more or less formal occasions, we still have no routine in preparing for such an event. So much needs to be planned and considered, posters and flyers need to be designed in time to be printed, hardware needs to be packed, means of transportation and the overnight stay need to be organized. And perhaps the most difficult thing was planning for 4 team members to be physically present at the same location. Miraculously everything worked out perfectly – like always. And at very last minute we even managed to borrow a car, so off we went to Linz!
When we arrived the guys from Radiated Pixel, who brought the GameStage to life in the first place, gave us a very warm welcome. Our colleagues from Missing Kangaroo Productions, Pro 3 Games, Broken Rules, Andranik Ghalustians and Ananasblau Games were attending as well. We quickly set up our gaming station, had a first beer with our comrades-in-arms and happily chatted about the pleasures and troubles of game development. With all teams struggling with similar problems of designing, developing, and now presenting the result of our hard work, learning to organize our young teams and managing our very limited resources, we had a lot in common. Never before, since I joined the Schein team, have I felt so understood. ;)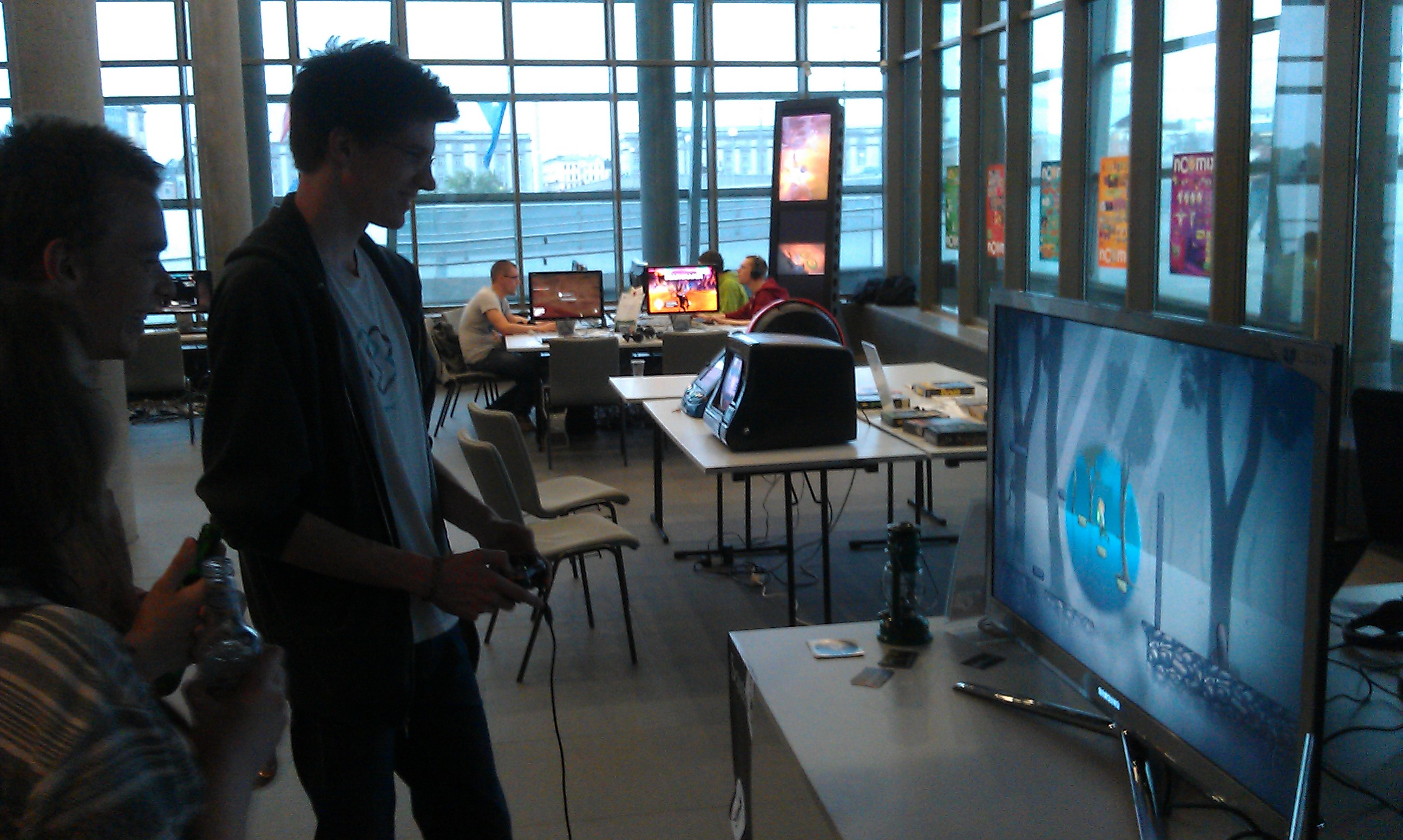 Then the doors were opened for the public and curious newcomers lingered in front of the screens considering picking up the controllers and getting a taste of one of these new, Austrian creations. We watched with fascination, as the players tackled the challenges of our game, sometimes struggling at unexpected places or breezing through puzzle sections which we found most difficult. We gained many valuable insights and it gave us great satisfaction to receive all that awesome feedback! There really is something very special about watching someone play your own game: Every daring jump makes you draw in your breath, you feel deep pride at every well working puzzle and exasperation at discovering overlooked bugs. It is also terribly difficult to refrain from giving instructions all the time, while still providing needed explanations and last but not least pointing out our Indiegogo campaign and dire need of support.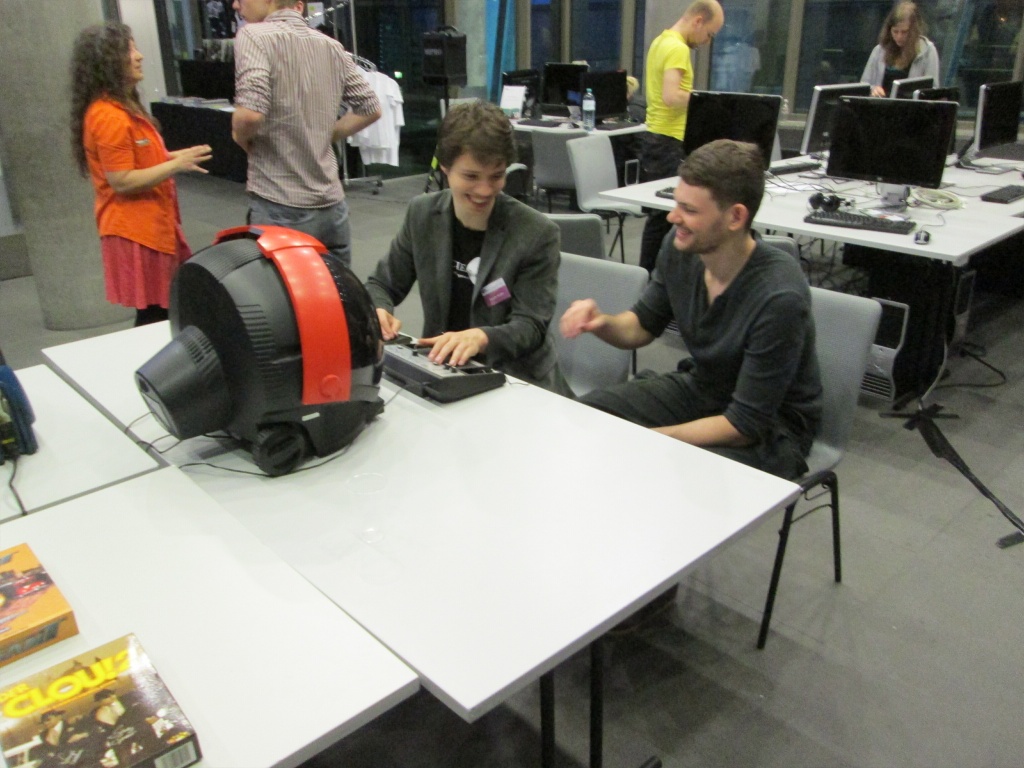 Apart from attending the gamers, we also played each other's games to get to know each other a little better. It was a great experience! We also enjoyed the series of presentations held by game devs, and when we surprisingly got the opportunity as well, we dug out some old slides and Philipp took the stage. It's a pity that we were so unprepared, but Philipp did an amazing job of the spontaneous presentation.
After an evening that seemed like no more than an hour and at the same time felt like it lasted a week, the visitors left and we started packing. But that's not where our evening ended. Together with a number of newly found friends we headed out into Linz in pursuit of a rewarding pint of beer.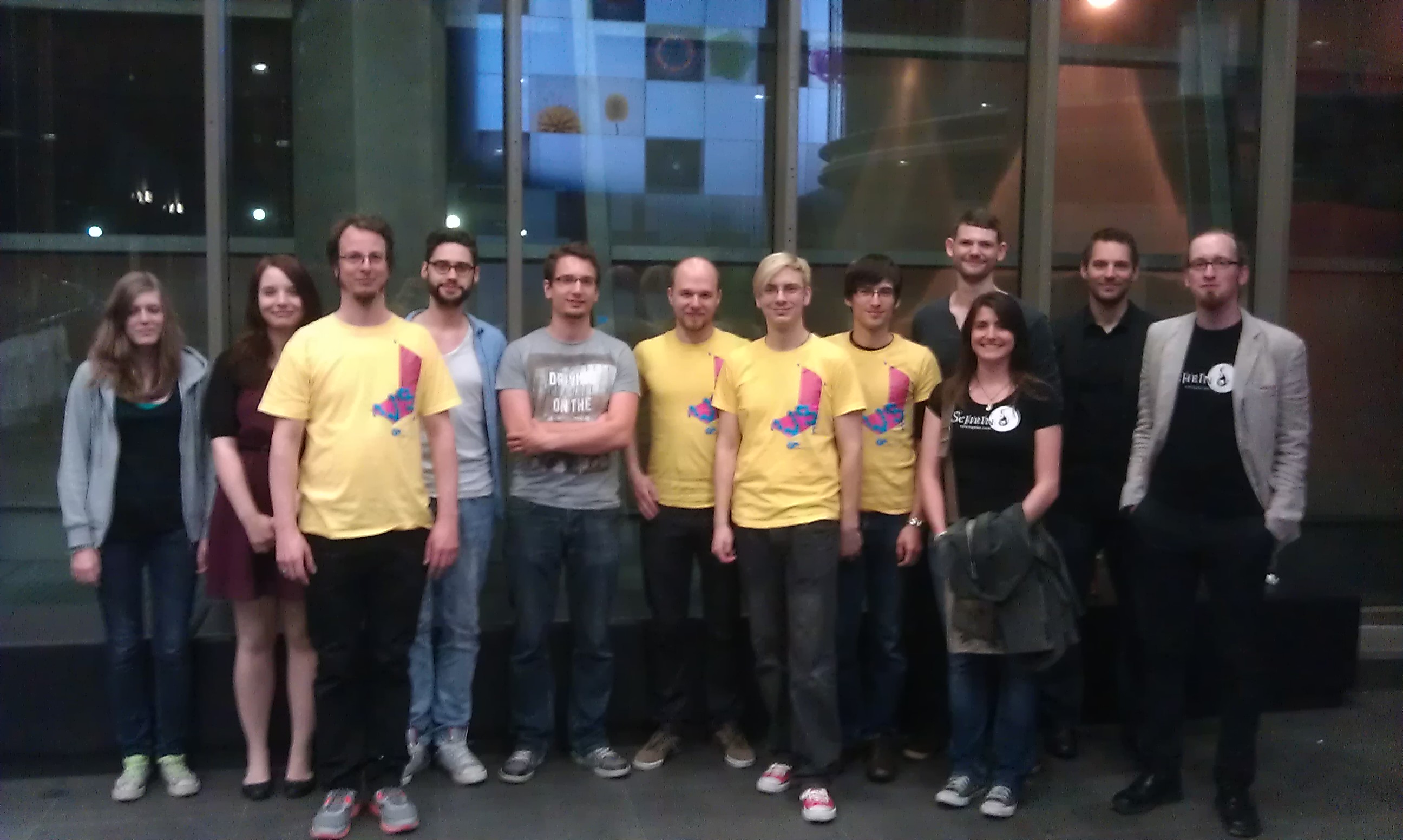 Small though it was, this event was amazing, and I wouldn't have wanted to miss it! Not only did we get a chance to watch our players in action and learn through this observation, we also received valuable advice, found new friends and enjoyed a wonderful team excursion to Linz. And of course we hope to have gained lots of new Schein fans and supporters for our Indiegogo campaign too!