The Waste Land's visual style is undeniably retro-oriented but nowaday's everybody's retro, right? The main references are again some of those NES and Master System titles, not the supposedly-super-stylish nowadays things. Also, this is not in any way "cute" or "nice". No super deformed characters around here. It''s made the way it looks, pixel by pixel and with some severe imposed limits. It's not strictly 8-bit, and it doesn't obey to some actual manchine's limits, in other words doesn't use a fixed palette, nor it is full 16 bit, and you can tell it by the still limited number of colors. Call it 12 bit or so?
I decidet do limit to handful colors per sprite, to use transparencies and particles, but there's no flash-style animation and while many modern games use big "pixels" coupled to a high resolution to fake a "blocky" appearance, this is all 1:1 pixel ratio.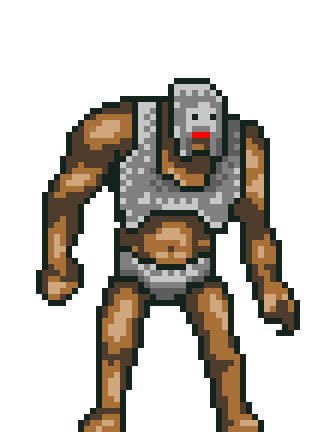 Ok enough technical details, and let's talk about the actual style. I wanted to capture a feeling that was present in some old school games, that of being alone in an hostile environment. To mimic the
thick forests and swamps i wanted to create i needed to layer some levels of parallax. This, along with a rising moon and color-changing sky enforced the feeling of being alone in the middle of...nowhere.
Also, weather effects like rain, snow, fog build up the feeling of time passing and of a world that goes on out there.

I had neved drawn a single sprite or background until somewhen in 2010, when i realised i was in the need of an artist, and that i had a ton of stuff to produce. So i decided to start doing it myself. I mostly threw away the first attempts, and i used some ripped sprites to learn how to modify them and how they were made. Then i got rid of those and i've created all the sprites on my own. It's been tough, really, becuse the variety of enemies is quite vast and there's always some detail to add and something to fix, but i've achieved the exact result i was looking for.
Join the Facebook group here: Facebook.com, visit the website: Thewastelandgame.weebly.comFledermaus.