Hello everyone.
As the title of the article would suggest, I really want to get some suggestions from you guys about what you would want to see in the initial Alpha release when it comes. I'll be honest, I've been struggling to come up with ideas about what to have in the game, so I'd really appreciate some help here.
Here's some things that are already in the game or planned to be in the Alpha:
- 4 Drivable Cars
- Buying of Houses (Selling or renting not in the Alpha)
- Buying & Using of Items & Furniture (Selling not in the Alpha)
- 3 Jobs
- Needs (Such as Hunger, Fatigue etc.)
- Game Manual
- Traffic & Pedestrians
- 1 Business (Early stages will be available in the Alpha release)
- Some random events for businesses, to change things up a bit
- Day/Night Cycle, with changeable weather
- 9 music tracks to listen to, can be turned off.
- Saving/Loading
Although I am open to suggestions, I would ask that suggestions are suitable for an Everyone/Teen rated game, suggestions involving strong violence, drugs etc. will not be considered.
You can make suggestions by commenting at the bottom of this news article, or by posting over at the Indie Game Magazine forum thread: Indiegamemag.com
Also I'll give you a quick update about what's happened so far during December.
As many of you might know, driving games aren't very enjoyable with a keyboard, and this was becoming evident during the ridiculous amount of play-testing I have to do, so I added a cruise control button, which will keep your speed steady without you having to tap the acceleration key over and over, a small addition, but I'm already enjoying driving more.
If you've been keeping up to date with all the screenshots I've been posting in December, you can see that the inventory now has tooltips which tells you what the item is, how much it's worth (For when selling items is added), and how many of that item is in that stack.
I also posted a screenshot of the shop system, the cars available in the Alpha, and the games manual (Work-In-Progress). The shop system isn't fully complete, as there are more items to add, but you should pretty much expect it to look like that when the Alpha releases.
The past week was spent almost entirely on the game world, and an in-game world map of the game, so you can easily navigate around the games playing area.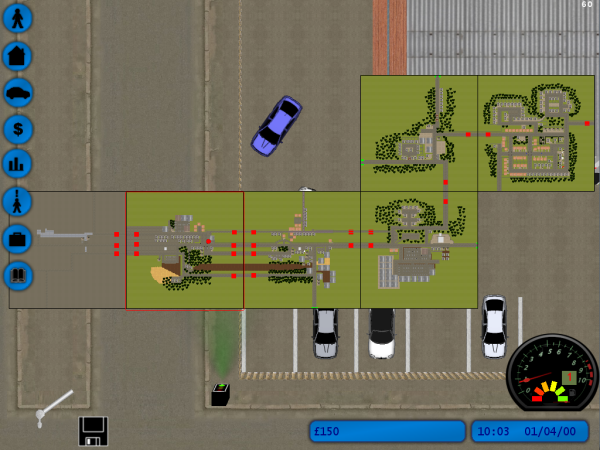 This is still a work in progress, and will eventually have details on certain buildings of special importance, such as shops, and places which offer jobs. (And it won't be behind the HUD buttons) Your current location is shown by a red dot, which you can see in the 2nd from left area. Just look for a piece of red that isn't at the edge of an area haha.
Just today I started working on the stats in the game, currently there are only: Hunger, Bladder, Fatigue and your overall Mood, the Mood being a combination of the 3. I will probably add more stats as I spend some time on them, but as I only just started testing with them, that's all I have at the moment. Your Fatigue stat will be lowered when doing jobs, and will affect how fast your character moves, so it's a good idea to get plenty of rest, especially if you like doing tiring jobs.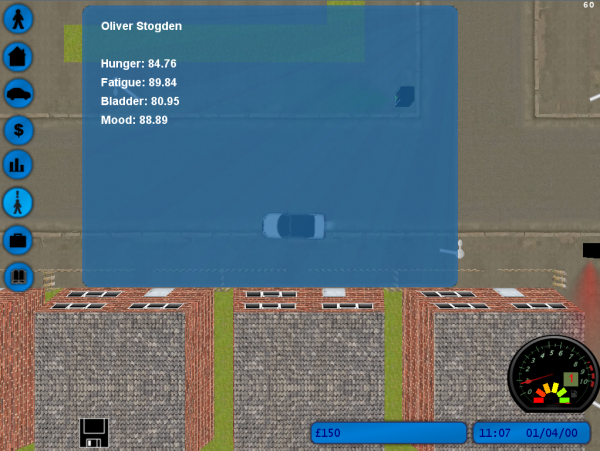 I may put it into some form of bar, or at least simplify it so it doesn't have numbers after the decimal point as it looks a bit confusing as it is now.
And finally, as you may have noticed throughout all the screenshots, the traffic cars have all been the same car, just different colours. A bit of an oversight on my part. You will now see different traffic cars, as well as different colours.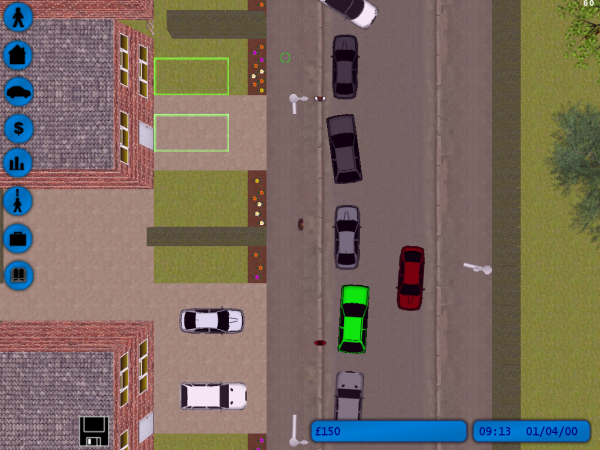 Yes, I did park my car in the road to stop traffic so I could take this screenshot.
That's all for today, remember to post any suggestions you have in the comments below or on the IGM forums. Track this game and follow me on Twitter if you want to keep up to date on any new updates!
Have a good holiday everyone, I'll probably be working through it. ;)