Courier finally reached the enterance of the crypts…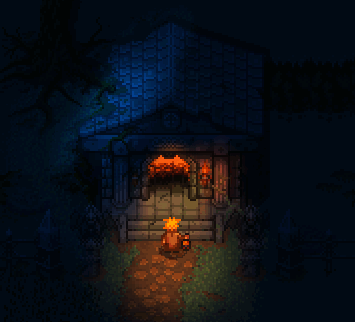 Few more steps and Courier will be facing horrors of the crypts. Storyline map graphics will be done very soon which fills me with joy and sadness at the same time – working on art for the outside scene was quite pleasant.
Now I have to implement that dialogue system already so I can have introduction ready for testing. There is also tiny part of the intro storyline waiting to be done inside the crypts – you know, to give Courier that magic torch and stuff like that

This time I've saved more steps in pixelating process for the crypt's enterance. I'll show you this neat animated gif how it was growing from mockup to the final version.