Attention space travellers - it's time to put your craftsmanship to work. Mod DB have joined forces with the Starpoint Gemini Warlords team @StarpointGemini to give you the chance to win cash and awesome ROCCAT hardware by creating an addon for Starpoint Gemini Warlords. The clock is ticking and there is no time to waste!
THE CHALLENGE
The challenge is to create a mod for Starpoint Gemini Warlords. You can enter the main competition with over $5000 in prizes by creating and sharing a Spaceship or Spacestation (which we are told takes a pro about 3 ~ 4 days). Or you can enter the secondary competition with over $2500 in prizes by creating and sharing any other addon like a 2D portrait, bridge voice, SFX, music or decal (which can be done in 1 ~ 2 days). We've got tutorials to help (see roundup) get you started. What you make is really up to you, but think BIG as any warlord would!
HOW TO ENTER
You can share your mods anywhere, here or on workshop and enter an unlimited number of times. BUT because community voting on ModDB decides the top 10, we highly recommend you submit to ModDB as soon as possible and promote your creation to generate the votes necessary to win. Everyone from the community who votes for and downloads the mods entered, automatically goes into the draw to win digital game keys from Iceberg Interactive.
PRIZE BREAKDOWN
The prizes you are eligible to win depend on which category your creation is for. Here is the breakdown of the awesome prizes up for grabs!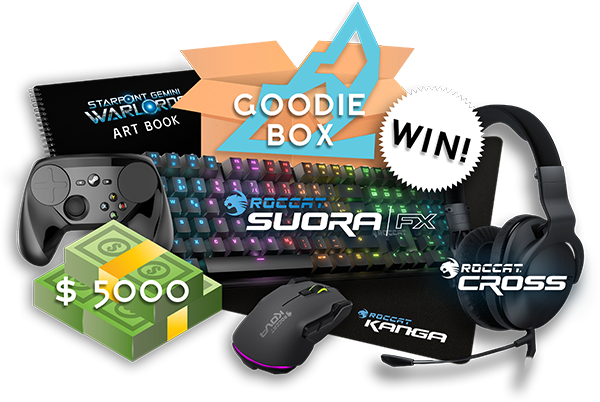 CATEGORY: SPACESHIP OR SPACESTATION
1st Place
2nd Place
3rd Place
CATEGORY: 2D PORTRAIT, BRIDGE VOICE, SFX, MUSIC OR DECAL DESIGN
1st Place

$750 cash
1x Starpoint Gemini Warlords Art Book

2nd Place
3rd Place
RULES
For the full list of rules please head to the event page.
Your entry MUST be tagged with #competition or #SPGW or uploaded to the Starpoint Gemini Warlords addon section.
Your entry MUST be uploaded to ModDB even if it already exists on workshop.
Your entry MUST work with the most recent version of Starpoint Gemini Warlords.
Your entry MUST be your own work, using models or art created by other people is not allowed without their explicit permission.
All content allowed including fan inspired, but we shall adhere to any DMCA takedown requests and will remove content if requested by the copyright holder.
No obscene or illegal content prohibited by our terms of use allowed.
You are allowed to participate with as many entries as you wish (they will be judged individually).
You may advertise your entry, but spamming any community or forum is not acceptable.
Getting removed/disciplined for spam on a 3rd party site may lead to judges invalidating your entry.
Any submissions received after the Jan 12, 2017 18:00:00 -0500 deadline will be disqualified.


New to modding? Check out these walkthroughs to help get your started on your quest! Once the top 10 is finalized the staff of ModDB, Iceberg and LGM will be judging the entries and will announce the winners shortly thereafter. Goodluck!