If you haven't already heard, Small Chronicles will be released in multiple chapters! The first chapter will consist of the first half of the story of Small Chronicles, along with the game's league mode.
On top of that, the first chapter will also feature 2 playable main characters - Kon and Lyea. Does that mean that you will only get to play only half of the game? Well fret not as the 2nd chapter will come later as a future planned update.
Why release the game in multiple chapters? I will be honest and be straightforward about it. Making a RPG does require a huge amount of resources (finance, people and time). Therefore, dividing the game up allows me to better manage these resources.
Well and not forgetting the main reason that doing so will allow each and everyone of you to get your hands on the game earlier! I want everyone of you to be able to enjoy the game as early as possible. Your feedback is also really important to making the game better so there's that too!
So now that we have got that all down, it all boils down to 1 thing. What should the first chapter be called? It should definitely reflect what the 1st half of the game's story is about.
After brainstorming for a while, here are some ideas that came up:
冒険の始まり(Bouken no Hajimari / Start of an adventure)
勇者の冒険 (Yuusha no Bouken / Adventure of a hero)
伝説の土地 (Densetsu no Tochi / Land of Legends)
明暗の土地 (Meian no Tochi / Land of Light and Darkness)
While I wouldn't say that some of the names above are half-bad, I have decided to go with a name that links the story with that which will continue in the 2nd chapter of Small Chronicles.
Interested to know more about the upcoming first chapter?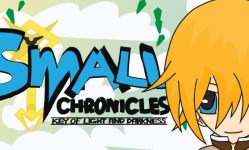 Well you can do so by checking out the official page for Small Chronicles - Key of Light and Darkness (Hikari to Yami No Kagi) !