For the 'Rivers and roads'-update our artist, Nina, makes improvements to most of the terrain graphics. The farm level in many of the terrain types can be developed to increase the food output, these 'improved' sectors will now be shown on the map. The screenshots below are still WIPs and might see further changes before we update Rising Empires: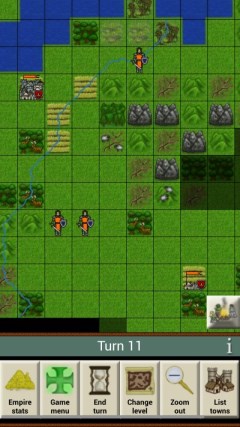 11 turns into the game the Imperium has started to develop the plains along the river. Sheep herders are cultivating the more rocky regions and hunters search for prey in some of the small forests.
Another new feature on the map is rivers. Rivers, except for making the map look more interesting, also gives a large food bonus in all the sectors that it flows through. But they are hard to cross and entering a sector with a river takes twice as long. This will affect where you place your new towns and how you move your armies.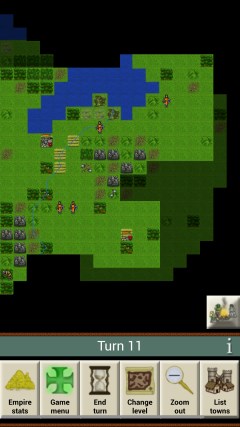 Zooming out to show all lands settled by the Imperium. Scouts are mapping the land to the west and to the north.
A few days ago Rising Empires got it's hundredth rating on Google Play. Rising Empires now has an average rating of 3.99 while Rising Empires Premium has an average of 5.00! Johan and I are very happy about this. Thanks to all of you who've rated Rising Empires and Rising Empires Premium.