All right, another milestone reached with RWR receiving the greenlit status in Steam! Thanks to all who voted and helped us get there! The hope's up RWR finds its way in Steam Early Access soon, but don't have any data available at the moment.
Also, 0.92 has just been released, we're sort of skipping 0.91 as it took so long this time. This also means lots of juicy changes.
Like seen in the screenshot below, there's some new tech in the game that allows having plenty of effects of warfare on the ground. Especially those bloodthirsty runners may now rejoice, but there's also skidmarks, dirty footprints, and well, just more dirt in general.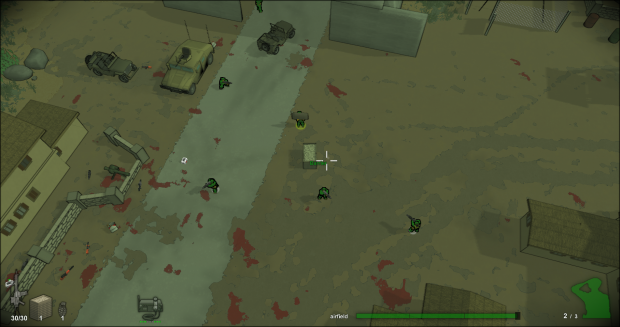 On the gameplay side, it's now possible to create cover barriers, allowing a greater amount of ways to fight through the more open spaces in the maps, highly useful in Stalemate for instance.
Some of those obvious low hanging fruits have been finished in 0.92, vehicle takeover from friendly soldiers is now possible if you have the rank to do it, and you can "whistle" for a driver to stop and wait to get you in. These kind of things make the game feel more responsive to various actions, part of polishing the gameplay towards 1.0.
On another front, loading times are greatly improving, went down a whooping 30 seconds on my dev PC. More commander AI bugs have been eliminated, making attacks function more like intended without that much running back to base.
Invasion is starting to see some additional RP sources emerge, the armories are now asking for specific enemy weapons and will think highly of anyone doing the deed. I know I would've needed that in 0.90. The two new maps from 0.90 have been added in the sequence as well, making it now an epic 8-map run through about 60 bases. Plenty of adjustments still coming for Invasion in the later releases, I'm having a gut feeling we've perhaps completed roughly 40% of the feasible ideas for content for it.
Call request handling has gone through a revamp, you're now able to make calls without having to get codes first at an armory, meaning as long as you can afford a call, you can do it. We also threw in some new calls, there are 2 artillery strikes now, rubberboat, jeep, humvee and tank drops. That's right, there's a humvee! Special thanks for Gniolliv for loaning the model, it is awesome!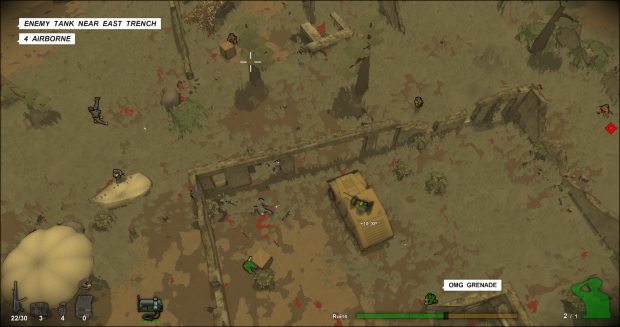 I'm running out of space here (what an excuse, eh?), so I'll just conclude that in addition to these highlights, a lot has changed in the menus, backpack handling, visual quality, maps, plenty of bugs have been fixed - we are after all in the 0.90-1.0 era which means all the stuff made during the past 2.5 years now need to start coming together!
P.S. new demo coming soon and .. did I just see a tiny sparkle of light for Mac port?