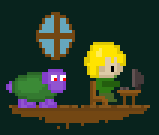 After a very long break (3 months now), I am finally able to release the new version of Build&Defend : the 0.10.8.
This version includes a very (very) large number of small addition and improvements in the game, as well as some new main content:
Addition of the bees, beehive and honey (it is up to you to find what they are for and how to use them).
Addition of the targets for the workers to train.
Addition of the swords!
Spread of the fire
Addition of the first person view (type /firstperson in the chat).
etc.
You can see the complete details of the change log at: Buildanddefend.com (http://buildanddefend.com/news#changelog_0.10.8)
I hope you will enjoy this new version!
Cheers,
Achoum