Greetings Troopers!
Welcome to Rebel Defiance's 2nd First Strike Campaign Registration.
Registration is now open with a view to commencing the actual Campaign 2 weeks from now on Sunday 18th of August assuming with have sufficient numbers registered by that time.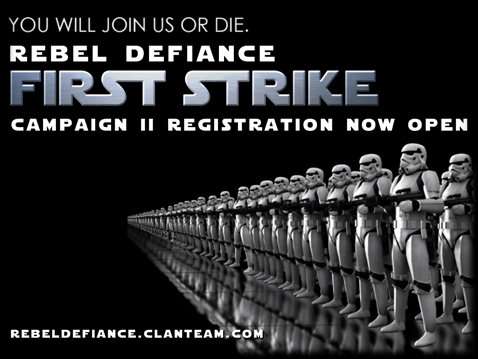 As with the last Campaign your team or faction will aim to gain dominance over the Galaxy by battling the enemy over star systems via the various maps available within the Star Wars mod First Strike, with certain examples of these being key to securing victory over groups of star systems that form Sectors. When a team secures two such Sectors they are free to go for the endgame and declare their intention to go for the Battle of Yavin which completes the Campaign. However, be aware that as well as victories, points gained determine the victor of the Campaign. So even if you are victorious at Yavin, you may still lose the war if your faction has less points in the final scores, so it is wise to be tactical when it comes to going for Yavin.
Additionally as with the last Campaign you don't necessarily need to register to participate in the Campaign. The event is free for all to enter, registered or not. However a team will find it's score penalised depending on how many unregistered players they have on their team during that particular round. So to get full marks for every battle it is in the team's interests to have as many registered players as possible. Registered players also have the bonus of being able to access the faction specific forum areas where team tactics can be formulated and discussed prior to the week's battles should you wish to do so. Also utilising the Ventrilocommunications system helps aid with the team's efficiency in battle and the immersiveness of the game, basically we aim to make the campaign as versatile as possible catering for those who wish to just get on and play on the night, to those who wish a greater more immersive experience with tactics and battle plans drawn up prior to the engagements, it is completely up to the individual player.
So what are you waiting for? Get signed up at the address below, and let battle commence!
See you on the battlefield Troopers!