QuestRun 0.1.3
What's new
We added a new quest, the Bard's Quest : Lead the Bard and its girly team against powerful beasts ! This challenging quest will require a perfect management of your inventory.
If you manage to finish the Quest, you will be rewarded with a new Profile for the Bard. It will be available on the Preparation Screen.
The Charmer (Bard Profile B)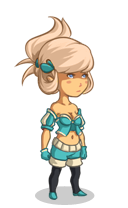 Weaker the standard Bard, but much more luck and charisma ! Prepare to loot very nice stuff, but beware, she can die very easily.
Balance
The Dragon is now stronger, as well as the Warrior and the Mage. Some other minor changes has been made as well.
What's coming later this week
The Boutique will be unlockable from the MetaShop and will allow you to buy items before you venture in a Dungeon !
The second main dungeon will come soon as well ! Here is a small peek with one of the new backgrounds