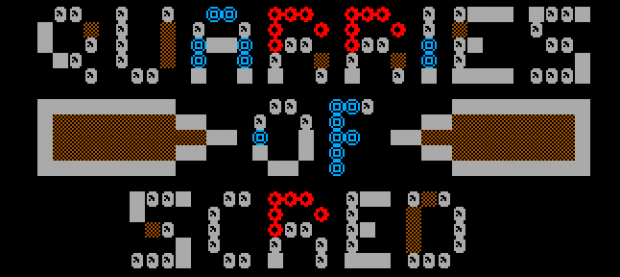 Quarries of Scred has been a great project so far - it's enabled me to push aside a lot of personal issues (depression, anxiety) and tackle the idea of 'get something out there'. I have failed in one aspect - I wanted it to be a short project, when it has in fact turned into approximately 5 weeks now. (The original 2 week project was 'complete', but bookending, further scoping for a better product, etc also occurred).
So, where do we stand? A lot of things have happened since the last update, which was sadly about a week ago. Unfortunately, just as the project got quite a few eyeballs (thanks to @kittylovesrobot & @hjtenchi streaming the game on their twitch channels, as well as some choice posts to r/letsplay & r/indiegaming), I had my home internet killed by Optus (the wholesaler to my ISP). This meant an inability to capitalise on these eyeballs, which I assume have now been lost.
However! This has not been entirely wasted time, since I have pushed QoS to a few new points. Let's see what's developed so far
Roadmap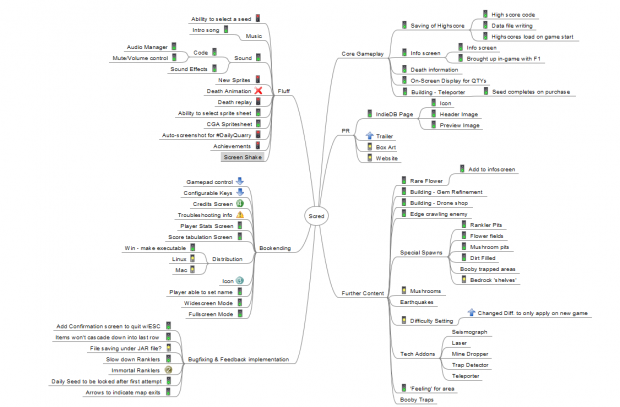 The Roadmap continues to expand a bit, but quite a fair amount more things have been checked off since last we looked. Noteably, Special spawns, 'feelings' and Mushrooms are new gameplay elements.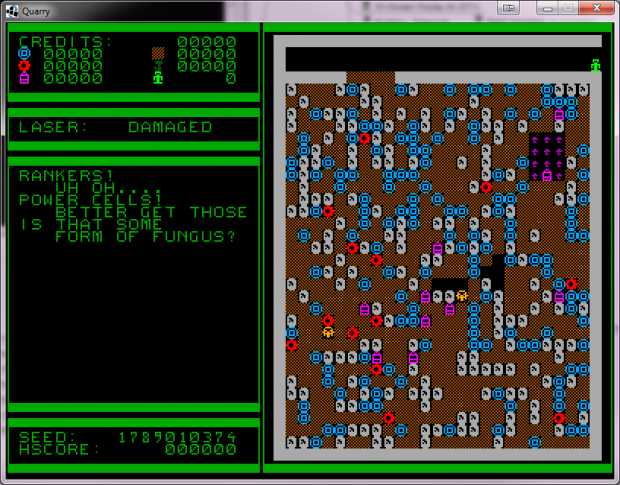 The above screenshot shows four 'special spawns' that happen to have coincided - batteries, Ranklers, Mushrooms & a 'dirt filled pit'.
Sound has been added (and the ability to mute it, naturally), which adds an entirely new level of 'game' feeling to it. The intro screen has a few options, including the ability to swap between some different view modes (EGA/CGA/Monogreen).On the wider side, the game now has a website, and boxart - these have been provided by the awesome @chasepettit (who was one of my Pixel Challenge of the Day pixel wolves).
Feedback during LPs, etc indicated that players weren't immediately picking up on the fact there were other screens! Thus, arrows have been added to each side of the initial pit to help guide them.
Testing!
Here's a quick link to the latest build! Go grab a copy, drop me some comments - the usual stuff. I promise this one's a big change.
What's New?
To be more explicit:
Sound
Menu screen has more options
Mushrooms added
'Special spawns' - batteries now are a 'chance to spawn', as are fields of mushrooms, Songlasia (and Rankler nests!).
Addition of small arrows on initial pit to help point out the fact the player can move to other pits
Daily Quarry is now once-per-day. (It will lock out once you have tried it)
Where to from here?
We're definitely drawing closer on the 'firm' state for the game - wherein I'd like to start looking into monetisation. I'll still be adjusting things, making sure it's not too easy, and adding the '50 quarry challenge', which is a set of 50 quarry seeds that each player gets for easier comparison. I've also considered some element of twitter integration to assist in generating culture behind #dailyquarry. There's a few other features - seismographs, earthquakes, bedrock shelves, screen shake - that I'll be looking into, but they're not fixed points in the spec. We've definitely reached a point far beyond the original scope, and it's time to start looking at where the next foothold is.YoutubeThere's been a slight explosion of letsplay/YT vids, so I'm gathering them into this sexy playlist here.
Show and Tell
Here's some more screenshots
For those on twitter, feel free to post a picture of the score screen when you play the Daily seed - I'm trying to start a bit of competition between myself, @trscp and others!
Big thanks to the following for participating so far:
@TRSCP
@Tccoxon
@RegretZero
@Akelbo
@DrCurlyTek
@MarcoSpeiss
@TakeNapEveryday... and many more!