After collecting more user feedback and some more playtesting of my own, I've released a new version 1.8 of 2x0ng with a few fairly significant gameplay and difficulty-level changes.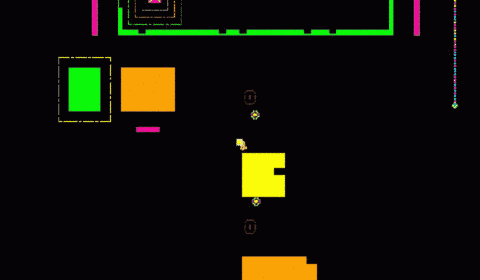 First of all, the Squareball was a bit too powerful on its return trip, which meant you could kill some of the minibosses with a single shot. This isn't really what was intended, so I've limited the Squareball to only three consecutive hits per enemy before it explodes and returns to the player. Using the Squareball's return-shot is still an important technique against bosses, but no longer will this allow you to one-shot a boss. This particularly affects the final boss fight.
Speaking of the final boss---he no longer gets stuck in the bricks where you can pick him off. Instead he will gradually bash through layers of bricks, and is generally more aggressive.
Perhaps the most significant change in 2x0ng 1.8 is the cranking up of the difficulty on the first twelve levels, so that the game is overall a bit harder than in the previous version. I also changed the mix of enemies in order to feature the trail-leaving Tracers a bit more prominently.
The result is that 2x0ng is now about as difficult as it's ever been---if not more, despite now having three lives.
The on-line help all refers now to SHIFT as the primary fire button for keyboard use, and SPACEBAR is listed only as an alternate. The reason for this is that many keyboards aren't capable of registering two arrow keys and the spacebar simultaneously---which leads to being unable to fire diagonally in 2x0ng. However, the Shift key will always be recognized for diagonal firing because it's a modifier key and thus will register alongside whatever other keys are pressed.
Lastly, the level exit's two states are marked more clearly with the words "EXIT" and "BOSS" respectively. This is in response to players who were confused as to why the level exit did not open. .