Hello. Not long ago i released a role-playing game called "Project Fire". You can play it right now if you want to, but why should you?
Well, it's a story-based jrpg\adventure game, set up in a technomagical world (that was inspired by the "Chronicles of Pern" by Anne McCaffrey, if someone intersted), with 2d graphics and atcive time battle system. Fantasy and science fiction are mixed in this world, but there is a lot more logic and reason then "just magic", almost any aspect of the lore has an explanation. Game was made in rpg maker, with some default assets, and some - from different free packs, but most of the graphics and animations was hand-made, and later into the game you will see a 100% unique locations. The game is story-based, with rich lore, but also there is lots of enemies, several boss encounters (some - unnessesary), puzzles, and non-linear ways to complete quests (one of them have more then 20 possible options to achieve the goal).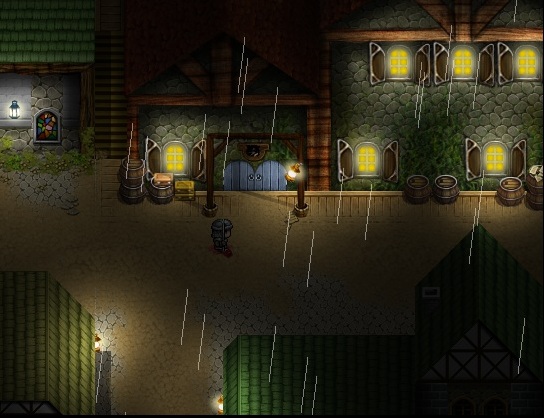 If that sounds like something you would like to play - you are welcome to download game here, on indiedb - Indiedb.com
Or vote for it in Steam Greenlight page, if you like it - Steamcommunity.com
Why is being greenlit on Steam is so important to me? Sharing one of my stories with the world was my life's dream. In my life i have two good things - my cats and good stories from games, books, movies. But i don't want only to take - since i was a child i was dreaming about giving one of my stories to other people, and when i first played games like Metal Gear or Final Fantasy and saw that video games can be an art - i decided that it's a good way to tell the stories. Sadly, here, in Ukraine nobody needs writers, and disabled people like me have no way out from this country, so i gave up on trying to join some big team and turned to the modmakers. But after few teams i joined eventually felt apart i decided to make game myself - that was pretty difficult, since i am not a programmer, modeller or artist. But i was lucky to find a good artist who joined me, and together we created "Project Fire" - i wrote the story, he bring it to life with his arts. Of course, we could not make the game i imagined with only two of us - instead we decided to create only prologue to the main story, that will introduce universe and characters, while telling pretty short (5 gameplay hours max), but finished story. There were other people who helped us on the way - made english translation, edited some graphics, let us use their music in our game, and crowdfounded my steam greenlight champaign - and i am very grateful for each of them, and will give them personal thanks on steam forums later, but i want them to know - i could not make it without you.
Now game is complete, avalable to anyone who wants to try it, and ready to be released in steam. Currently Steam is one of the biggest gaming websiteds, and if my game will be released there - a lot more people will be able to find it and play it, for free. Why it's free? Because i like free content, and i think that anyone should have acsess to any forms of art for free if they don't have money for that! I want my game, my story to be avalable to everyone, without limits. Also i do not really need money - i was born poor and never saw more then 100$ in my entire life, i am used to that, and i don't really need anything else in this world.
The only thing i dream about is sharing on of my dreams, one of my stories with others. And here you can help me - because on first days of greenlight i managed to get almost 30% votes for my game, but then progress stopped. If you played the game and liked it - please, go to the greenlight page and vote for it, help me complete my only dream in this world! And also - if you have anything to say or ask about the game - please do so here, or on greenlight page - your feedback is very important for me!
p.s. Please forgive me for any spelling mistakes, i know my english is bad.