Raptor Claw Games are very pleased to announce that PGM will be released on Steam for PC on April 29th. It's been an amazing journey through Early Access and we're super excited to give you this special content update. This eSport tycoon management simulator is now ready to take the next step and reach out to a wider audience.

Development will continue after release, we still have tons of new features and content that we want to get into the game, including tutorial and glossary codex for both gamemodes, support for atleast 4-5 more languages and achievements, so stay tuned for regular updates on Steam.
Update notes Build 175
We just released a major update #175. Introducing Staff assignments, ManagerPhone, Transfermarket, Gaminghouse Events & Characters, Bootcamps, Investments, Internet Celebs, Reserve Team, Talk to players, Advanced FPS tactics, Custom team names and much more.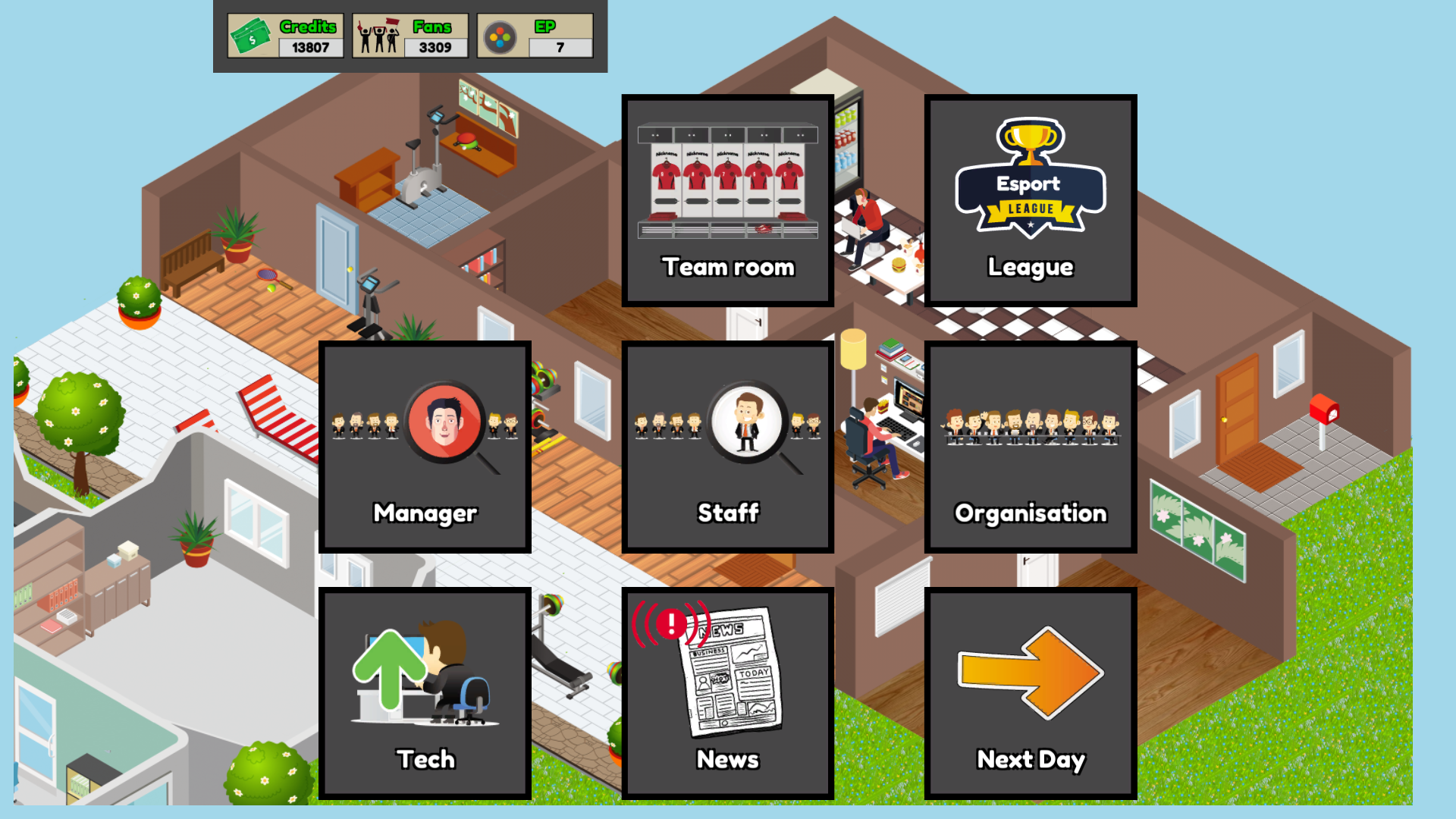 New Feature* Track all your staffmembers progress in Managerdesk
New Feature* ManagerPhone and Transfermarket added
New Feature* Host events in gaminghouse for sponsors or fans
New Feature* Send your team on challenge/semipro/elite bootcamp
48 new characters added to visit the gaminghouse
Assign your staff to specific tasks suited their expertise
Create your own promotional campaigns to reach out to new fans
Community Manager can prepare promotional campaigns every 5 days
Player scout finds new updated Free Agents every 30 days
Choose when to accept an updated list from scout
Finance Director will now find new income opportunities
Streaming Manager can invite internet celebs to the gaminghouse
Sponsorship Manager can host happenings to attract new sponsors
Esport Coach now helps to plan and schedule bootcamps for team
Promotional eSport Broadcast can be arranged from gaminghouse
Esport TV Crew now shows up in their room when broadcasting
Board Director can find investment opportunities every 30 days
Managerdesk has been expanded with new content
Contact Gamingpress and EsportNews to make announcements
Affect other teams transfer behaviours in ManagerPhone
Option added to customize and rename teams in Team Profile
Option added to bid on other teams players in Team Profile
Esport League #3 and #4 overall skill has been balanced
FPS Manager Mode matches now shows Attackers / Defenders
Added option to talk to each player about their performance
Tournament prizes now show up in trophy room
Keep track of your old players transfer history
Staff salarys has been balanced
CPU Manager AI improved for all teams in all leagues
CPU Controlled teams transfer/finance AI has been improved
Individual tactics options for all FPS classes has been added
Option added to skip a WorldEvent Tournament after elimination
Match engine has been improved for both FPS and FOBA
Better UI for Tech and Practice and Upgrades
Kicked players remain in the game and can return at some point
Offensive and Defensive philosophies added to FPS tactics
Upgrade reserve team in organisation now unlocks new content
Bio added to Manager Profile with player career history
Contact your sponsor and adjust your sponsorship deal
Gather your staff to a meeting to boost assignment progress
Inform team about your expecations for current season
Set your current focus for the eSport organisation
Players now like/dislike Manager based on dialogues
Saving and loading should be faster
New improved soundeffects for both gamemodes
New improved textures for both gamemodes
78 minor and major reported issues and bugs has been fixed
Savefiles from previous version are compatible and should work fine in build 175