Good Afternoon, Fans!
The day has finally arrived. We are proud to present to you, the Early Access edition of "The Legend: A University Story". (Build V0.8.1a) TLAUS will be available on the Humble Bundle Store and the Steam Store at 10:00AM PST (1:00PM EST) today, July 27th, 2016.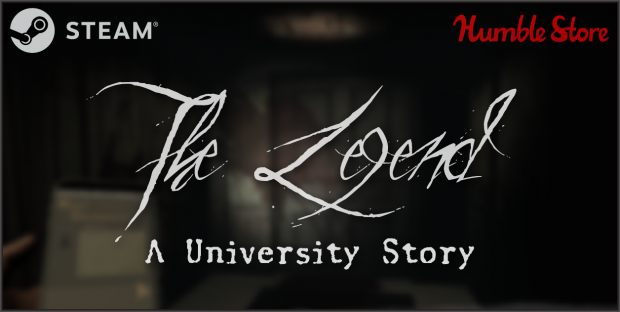 ©2016 Valve Corporation. Steam and the Steam logo are trademarks and/or registered trademarks of Valve Corporation in the U.S. and/or other countries.
Begins at 10:00AM PST (1:00PM EST)
Today, July 27th, 2016
---
Release Trailer
---
In Case You Missed It
Story
We pride ourselves on producing an atmosphere and experience that will resonate with our audience. Notice that we say audience and not customers. We are focused on delivering a good-story, that just so happens to be a game rather than a game with a mediocre story or plot for support or continuity. For our first installment of "The Legend" series, we've chosen a backdrop that many of our audience can relate to:College. Everyone in the atmosphere, or has a friend immersed in it will understand. For students:
The fear of walking back to their dorms late at night alone.
The fear of being followed by a dark presence.
The fear of being assigned that psychotic, crazy roommate.
We've also tackled the fears of this atmosphere from another angle too. From the perspective of the staff, specifically, the Campus Police Department:
The fear of finding strange things on the CCTV system.
The fear of patrolling the facilities late at night.
The fear of being too-late.
In this release you will be receiving three chapters, each with a unique perspective, mechanic and atmosphere to immerse you in the story of West University. Specifically:
Chapter Zero: The Story
An opening chapter, where you will be introduced and playing Sergeant Thompson, the Night-Watch Commander for the University Police Department. In this chapter you will be patrolling the facilities of West University, while in contact with your rookie police dispatch officer on the hooks.
In this chapter, you will be introduced and play as Officer Morrison. A Rookie (New-Hire) Police Dispatch Officer who is thrust into a campus atmosphere that has found itself immersed in darkness. You main purpose is to watch those CCTV systems, and patrol the dispatch office from time-to-time, to ensure the safety of all students walking late-night on campus.
(Each Student has a randomly generated phone number, to ensure that gameplay is never the same everytime.)
Chapter Two: The Roommate
In this chapter, you will be playing as Ashley Tamon, of whom, you will have already been introduced in Chapter One. Chapter Two: TR takes place weeks prior to Chapters Zero and One. You are returning to your dorm to your foreign-exchange student roommate who may have stolen some of your belongings again. As with any college, young adult, preppy girl, your phone is glued to your hand in this life/death scenario.
---
Release Information
While we are finishing up our cleanup and debugging builds, we are extremely eager to release this project after being Greenlit in 2013. We will be releasing on two sales platforms. Steam and Humble Bundle. As we set up these pages, we are finalizing our first Early Access Build and looking forward to your support. We ask that you remember several things:
We promised to release as cheap as $3.99. We stand by our Word, and we will be releasing at just that: $3.99.
Also, please keep in mind that this game, all 3D, 2D , programming and development was completed by a team of one person. (Not counting our amazing audio team, and one character modeler.) Thus, we will be holding ourselves to a higher quality standard than our competition, but we will also be debugging a $3.99 game.
Please remember that the proceeds of this Early Access version of The Legend: AUS will be utilized to examine the likelihood and possibility of finishing Chapters Three (The Walk, VR-Supported), and Chapter Four (The Haze). If you purchase our Early Access edition, you are automatically granted these chapters upon their completion IF we receive enough funding to finish them. If you wait to purchase, there is the possibility you will be purchasing a later-version with all five chapters for $4.99.
I cannot thank each of you enough for your support these past few years. I really hope you enjoy it, evenmoreso, I hope you last long enough to enjoy it. ;)
Signed,
-Austin H.

Project Lead