Detective Case and Clown Bot in Murder in the Hotel Lisbon is available to pre-order! Still with no launch date but with an official sale price of 9.99€ / 9.99$ / 9.99£, Murder in the Hotel Lisbon has an awesome price! After the amazing pre-sales period with a 40% discount during September now, until the end of October we continue to offer a 20% discount on all pre-orders made on our website. Isn't it awesome? Hum?
And now, it is also possible to pre-order the game directly here on Desura. BAM! For the same price and with the same discount, the Early Bird version can be acquired through this famous digital videogames sales system. BRUTAL!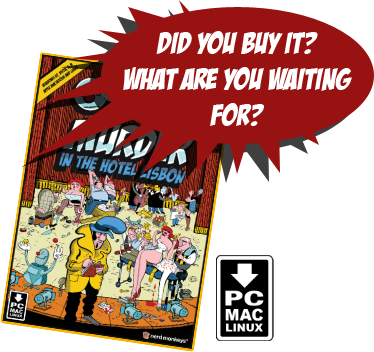 For all of those that want to see the game launched on Steam, a Steam Greenlight there is a campaign to gather votes. All of those who buy the game on our site will get a Steam key when the game is approved for launch by Valve.
And check out the amazing cover for Detective Case and Clown Bot in Murder in the Hotel. This magnificent illustration was executed by the fantastic Nuno Saraiva, the illustrator for all the characters in Murder in the Hotel Lisbon.
The videogame:
A strange murder has occurred in the Hotel Lisbon, a man committed suicide with 14 stabs to the back while at the same time he peacefully drank his coffee. This case with contradictory facts was too complex for Policeman Garcia to solve, so he decided to hire the only detective duo in town capable of solving it: the mythical Detective Case and the unmistakable Clown Bot.
Murder in the Hotel Lisbon is a videogame inspired by the classic point and click adventures from the 80's and 90's. It adopts these eras characteristically design and it is built using only the pixel art technique. The game itself runs at a native resolution of 256x192, the same resolution used by the old ZX Spectrum 48k and most recently by the Nintendo DS.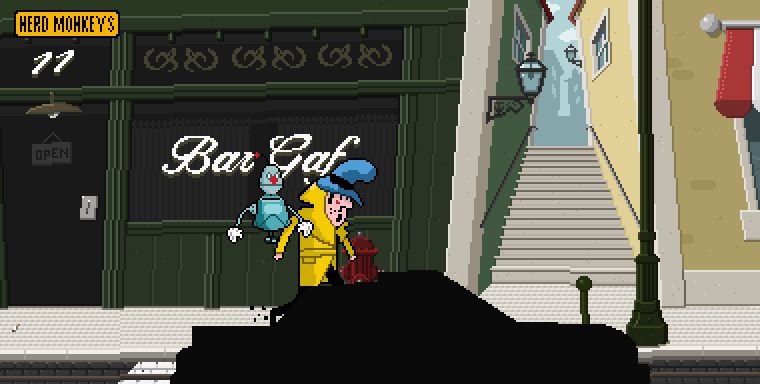 International Trailer - Youtu.be
Desura store - Indiedb.com
Awesome wallpaper - Indiedb.com
Steam Greenlight - Steamcommunity.com
Official website - www.caseandbot.com
Passion, humor, mystery, horror and drama!
An adventure videogame for Windows, Mac and Linux.