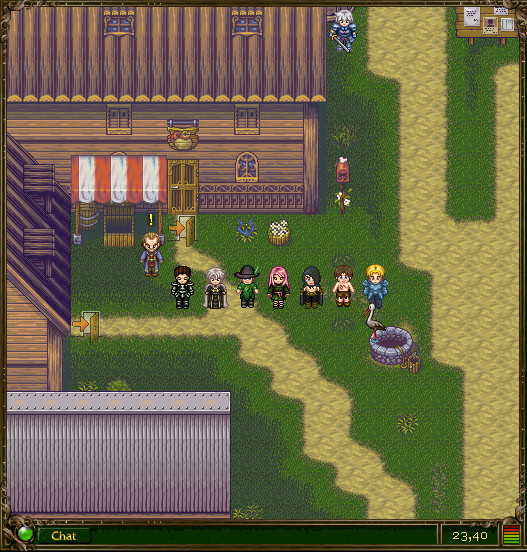 Outfits are very important part of every MMO game. Players
like to have different appearances. It makes them stand out above the crowd. It
is not just pure assumption. I can tell from my experience, that the look is
one of the most crucial parts of Internet identity of the player. In my career,
I have encountered whole wars between players who used similar or the same
outfits. It is especially often among group of killers as one of the type of
players. These players are very confident about their fighting capabilities, so
they are quick to impose their opinions on other participants of the game. The
other manner is using low levels outfits when the character has access to
high-level outfits. In some games it is forbidden, however in Margonem MMORPG
the low levels players have not got access to PvP locations, where there can be
easily killed by others.
Someone may say that, it can be easily avoided by using a
character creator. I have seen some character creators even from predefined
clothing. It is always the same problem with layers not covering every of usual
sixteen frames of movement animation. Even if model and clothing are from e.g. RPG
Maker, it does not fit. I have seen many outfits with "naked" body sticking out from behind of armor or cloak. Even in simple creators that use only a few parts of clothing and RGB slides it exists a
problem of achieving a good look because many players are not familiar with RGB
color space. We used such a simple creator in Neurostaza, other production of
my company that has not been launched yet. Probably that is why in modern
advance character makers like in the Sims or Tropico the colors are predefined
and are usually well-chosen to fit in different cloths compositions. Of course,
there is a possibility to choose a custom specific color but the menu is deeper
in the menu. Apparently, the designers do not advice this option. Colors
fitting and mixing is more of an art and not everybody must have knack to it.
A simple character creator is not ensuring a great outfit
for the player and advanced character maker gets to work more like a game
itself, because it is fun to cloth our hero. It need also a great amount of
work put into such an application what takes, of course, time and money.
Probably that is why we decided to use complete characters as players' outfits.
Maybe it is not very realistic when one player change his outfit and hair color
and other body features change as well, but we prepared such a range of
character looks that most of the players would choose something appropriate for
them. Now in Margonem MMORPG we applied a temporary solution that players get a
new outfit every ten levels of experience. The outfits are default and prepared
in such a way that the best outfits are for the highest levels. In
international edition of the game, we would like to connect new outfits with
achievements, so it will be another way of getting a great outfit. In Margonem,
there are six profession and outfits are prepared for specific profession. That
ensures that warrior would not wear a mage outfit and the other way round. It
is the part of reality that we want to keep in game's world. I think that
players find themselves quite good in this convention and spend more time on
playing than choosing cloaks, armors, hat and skin color.