Hi everyone,
These last few weeks we took a break from pure development and focused on some boring but useful tasks like planning and paperwork... And also funnier ones like story writing and concept art.

So... What kind of peoples are living in New Homeland ?

Most screenshots and videos were featuring the Vikings type of people only.
Yet, almost all peoples were already defined from the beginning of New Homeland's development.
It was time to finally put that all on paper, and it was very pleasant to finally see them all come to life !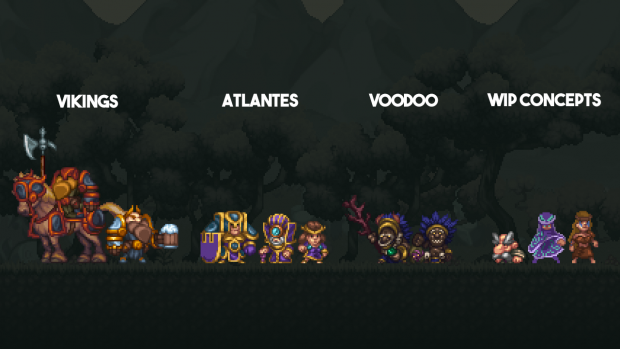 You have probably all heard of Atlantes, that mythological people with advanced technology living on/under the sea... Then Voodoo people, a primitive people with scary customs and powerful magic.
The WIP concepts are not yet finalized but are about the Mountain people, the Desert people and the Amazons.

Finally, for the most curious of you all, we decided to record a time lapse video of the drawing of
a voodoo guy concept.
We hope you liked this all, and we look forward for your feedbacks, questions and why not suggestions.

You can follow us on Twitter and Facebook, visit our website hotfudgegames.com, and
have a look at our first trailer if you haven't already: