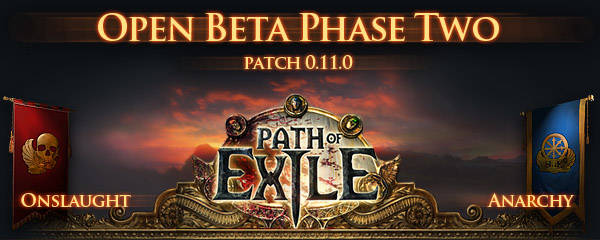 This week's 0.11.0 patch completely rebalances Path of Exile. It adds loot allocation, mini health bars and two new four-month leagues with difficult challenges. It's a great opportunity to start a new character and compete in a fresh economy! To learn more, please view the full announcement here.
New Leagues - Everyone loves a new economy to play in, so we've added two. The Anarchy league contains hostile rogue exiles that roam Wraeclast and ambush players. The Onslaught league is a Hardcore league with increased monster movement, attack and cast speeds. Both new leagues contain exclusive new item types, Unique items and vendor recipes. These leagues last for four months, leading up to the full release of Path of Exile in October.
Challenges - One of the most common requests we receive is for an achievement system. As an experiment, we're running a series of eight difficult challenges in the new leagues. We'll ship an exclusive T-shirt to players who complete these challenges before October 8!
Complete Rebalance - Based on vast amounts of feedback and data, we've rebalanced many of the core game systems and have granted all characters a one-use full passive reset. Life passive skills are less necessary now and other defensive options such as Armour have been improved.
Path of Exile entered Open Beta in January and quickly reached 2.5 million users. We have been blown away by the quality of your feedback and generous support! We are hard at work on the full release of Path of Exile later this year.
A full article about the changes in 0.11.0 can be found here. See you this weekend!